Sign in to your ExpertRec account at cse.expertrec.com to access the Search Engine control panel. The header session of the control panel has the list of all the accounts registered with the user's email address. If you have multiple accounts with Expertrec, you can manage all their operations by choosing the specific account from the drop-down list. You can also click on user information to logout of your account.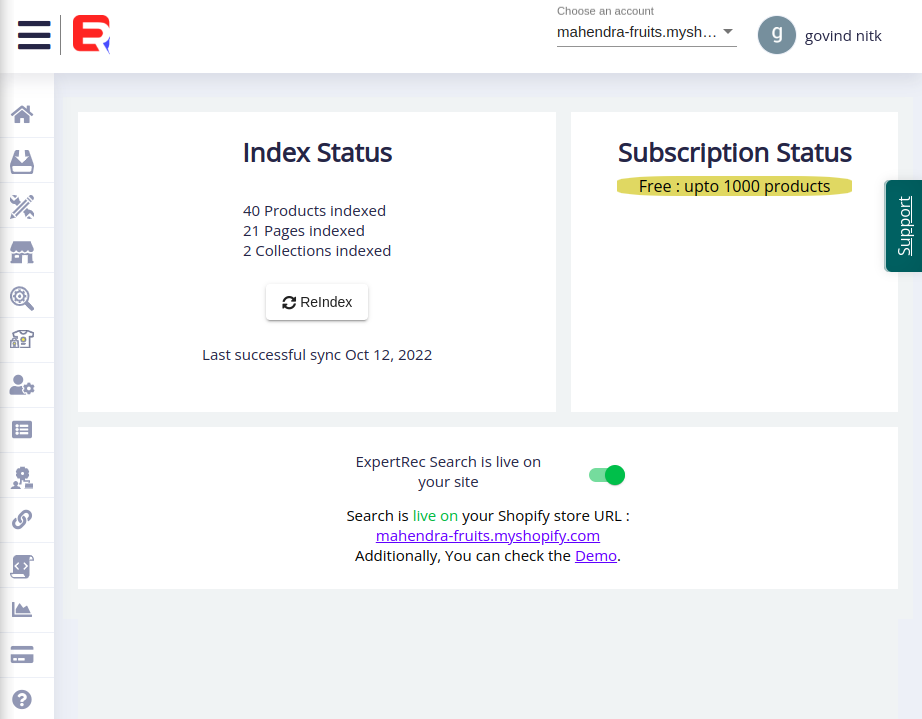 On the home page, you will find the following status.
Index Status
Subscription Status
ExpertRec Search Status
Index Status
Expertrec creates an index of all the Products, Pages, and Collections fetched from your store through the Shopify API. The number of indexed Products, Pages, and Collections is displayed under index status.
The ReIndex button refreshes the index created for your store. This is useful when manual reindexing is required to reflect immediate changes done to any of the indexed fields. The indexing is automated and the information about the last successful sync is displayed.
Subscription Status
The information about the current plan you are subscribed to and the next billing date is displayed. If you are in the trial period, the number of days left on the trial is displayed, and clicking on the Subscribe button will take you to the various plans offered by Expertrec.
Expertrec Search Status
The 'Expertrec Search live on your' site switch will enable/disable Expertrec Smart Search on your store. The store URL where the Search Engine is integrated is displayed, followed by a demo link to preview Expertrec Search functionality. The demo link is a preview of how the suggestions and search results will be displayed in your store. You can access the link even when the indexing process is underway.