REMOVE Advertisement (ADS) IN GOOGLE CUSTOM SEARCH
In this article, we will see, how to remove ads in Google custom search easily. If you are annoyed with Google custom search, you could also look out for other search engines listed in this section on the custom search for sites. If you are landing in this post after reading other blogs, you might have read some solutions that suggest you log in to your Google custom search admin panel and make some changes to your search engine which might remove ads. Let me save you some time ahead and say that this will work only for nonprofits, educational websites, and government organizations.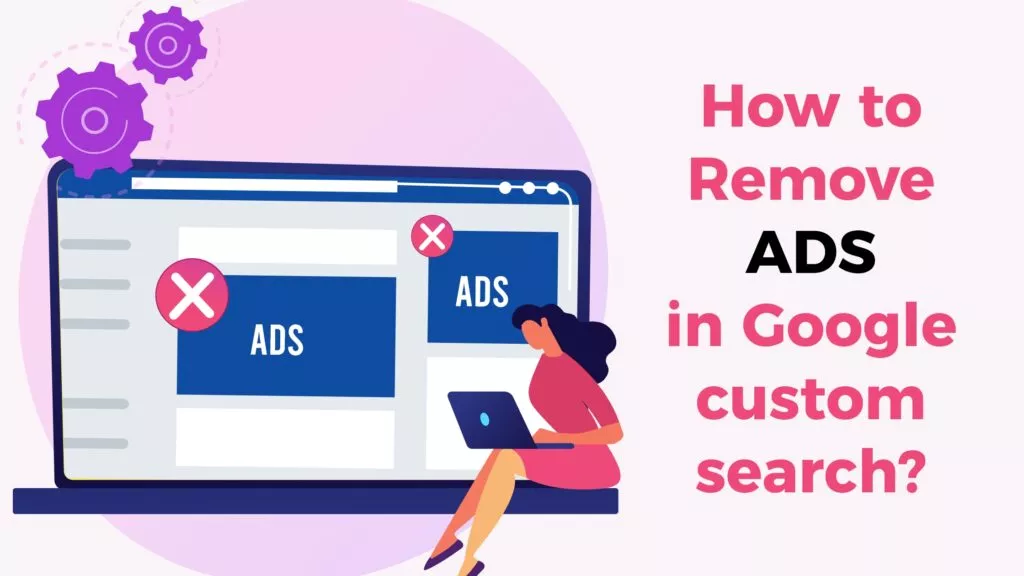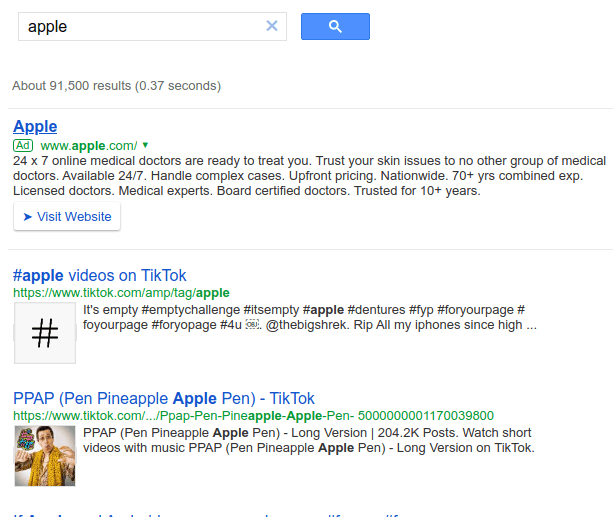 What is Google custom search?
Google custom search is a free custom search engine from Google. Using Google custom search, you can create a custom search engine in no more than 2 minutes. Google custom search also gives controls to edit the look and feel of your custom search engine and also fine-tune the search results ranking inside their control panel. According to builtwith.com, 258,370 websites use Google custom search out of which 143,222 websites are in the united states alone, at the time of this writing.
Ads in Google Custom Search
Just like the way you see ads in Google search results, Google custom search has ads as well. This is the reason why Google custom search is free. Google had a product called Google site search which was a site search engine without ads (you had to pay to use it). This was shut down in April 2017. Showing ads in Google custom search is an additional stream of revenue for Google, hence the decision to shut down to GSS and try to make customers move to GCS. For some websites, having ads might be beneficial since they could make some money from Google AdSense. For other websites, they might not like ads on their website since this could mean losing their hard-earned traffic to competitors who are price-conscious. If you fall in the second category, you should work on removing ads in Google custom search using the steps below or look for an alternative custom search engine.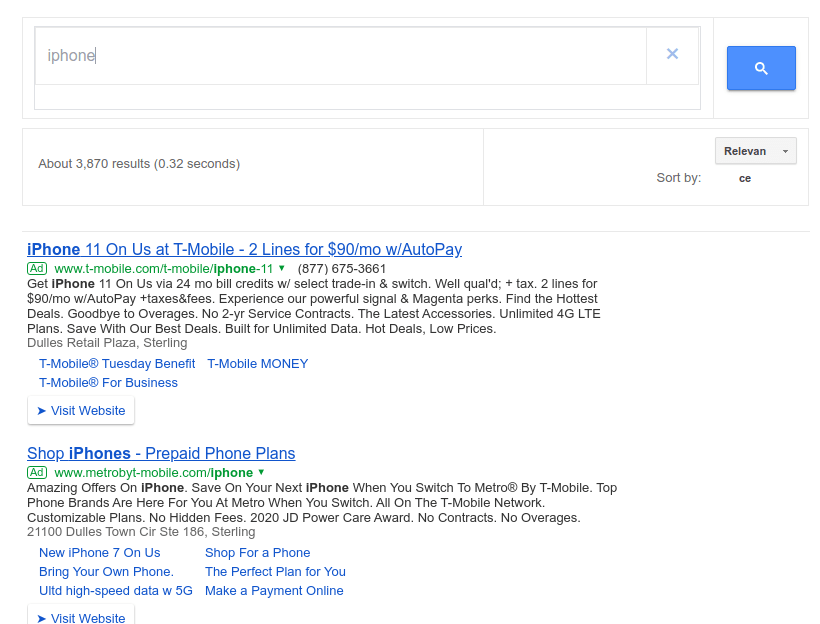 Google CSE remove advertisement / Ads STEPS
Log into your Google custom Search from cse.google.com.

Choose the custom search engine from the drop-down menu (if you have created more than one custom search engine).

Click the tab.
Toggle the "Show Ads" option to .
To be eligible for this, you have to be one of the following:
Non-profit
Accredited Educational institution
Government agency
If you are a non-profit website, follow the following steps:
Go to https://www.google.com/nonprofits/ and register as a nonprofit. Check your eligibility details below.

Not a governmental entity or organization

Not a hospital or healthcare organization

Not a school, academic institution, or university (Google for Education offers a separate program for schools)

If you are an educational institution, visit google for education, and create your account. Check your eligibility details below.

Have verified not-for-profit status.

Be a government-recognized, formally-accredited educational institution delivering nationally or internationally-approved certifications at primary, secondary, or third levels.

K–12 schools, higher-education institutions, and homeschool co-ops are eligible for G Suite for Education if they meet certain criteria. The institution applying for G Suite for Education must submit the application.

K–12 and higher institutions must have verified not-for-profit status and be a government-recognized, formally-accredited educational institution delivering nationally or internationally-approved certifications at primary, secondary, or third levels.

If you are a government agency, you can fill out this google form. Government Edition for Programmable Search Engine is available for free without ads for Government agencies or bodies at any level (federal, state, local, or tribal).
If you don't want to go through all these hassles, you can sign up for ExpertRec's ad-free search experience you can sign up for ExpertRec's google custom search replacement for 9 USD per month. Here are some screenshots that showcase the search interface.

Add Google custom Search to your website

Removed advertisement / ads Using ExpertRec custom search engine
Expertrec custom search engine is another custom search engine that is similar to google custom search. The major difference is that expertrec is an "Ad-Free custom search engine". Wait, all this sounds good but what is the catch? The catch is that expertrec is a paid custom search engine with pricing plans starting at $9 per month.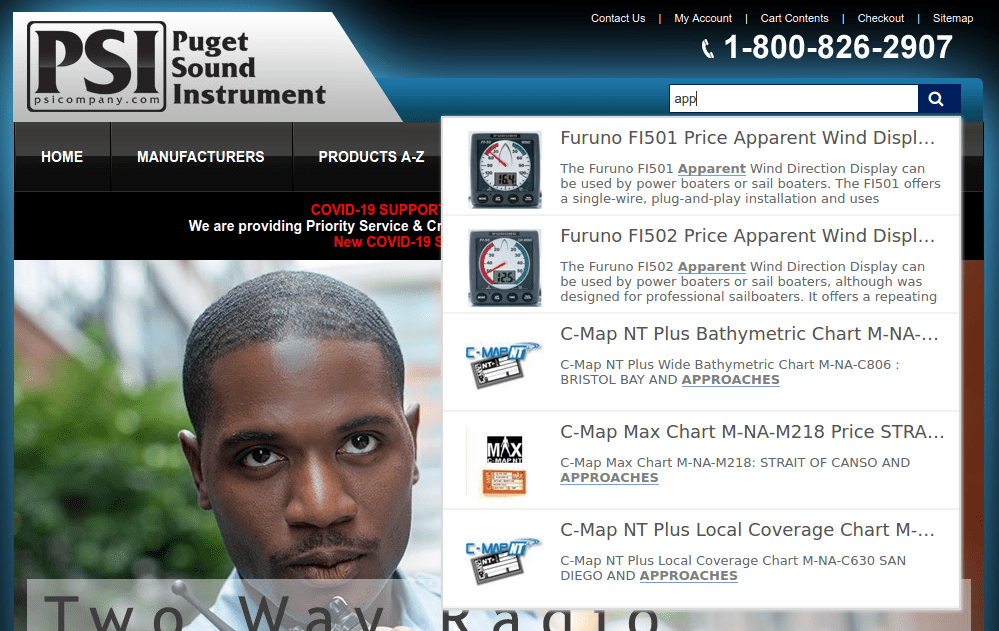 Creating an ad-free custom search using expertrec
Before starting out to make a custom search engine using expertrec, make sure that is your website is live and not behind a login (If your website is behind a login, follow steps from here (Indexing behind login pages). Have your sitemap URL handily. Also, make sure you have code access to your website. Follow the below steps
Login with your Gmail id.

Enter your website URL. (enter your website URL in the format https://www.yourwebsite.som).

Enter your sitemap URL. If you don't have a sitemap, you can enter it here. If not, you can

Initiate a website crawl. (Now expertrec crawlers will start crawling your website. This could take some time depending on the size and number of pages on your website).

Once the crawl completes, you can make a change to your search engine's look and feel and also to the search engine's ranking algorithm by using the control panel. There are more advanced features like search weights, promotions, synonyms, and more.

Search weights

are a way to tell which portions of your website should be used to rank the search results. Queries will be looked for in the portions of your site having a higher weight first.

Synonyms

Imagine your customers are using a site search engine and people are searching for "open source" and there are no docs matching "open source'. But there are documents that contain terms such as "Linux", "Drupal" etc. Synonyms solve this issue.

Boost fields The boost fields feature helps you boost certain fields in search results across your website. For example, you might want to boost PDFs across search results.
Ui customization– The UI editor lets you edit the look and feel of your website search engine without coding.
Analytics- Expertrec has its own site search analytics suite that you can use to analyze the search patterns on your website. You can also link Google Analytics and check your search queries within GA.
Script hooks– This is an advanced feature that developers can use to accomplish certain tasks before or after the search loads. For example, using this feature you can increase or decrease the number of search results in the auto-complete.

Go to the code section and add it to your website. You can also email the code to your developer and ask them to add it to their website

The code contains two portions ( one within <script></script> and another piece of code <ci-search></ci-search>).

The <script></script> is just the JavaScript component and can be added using Google Tag Manager or using the code editor.

The <ci-search></ci-search> code adds the search box to your website. The place where you add this code determines the location of the search box.

It is advisable to make the code changes in a test mode or development website before you go live on the production server.

As a final step, remove any website cache that you might have.

Now your site search engine is live. You can check out the search analytics after a few days of search engine usage to check out what users are searching for and reorganize your content strategy accordingly.
FAQs
How do I get rid of ads in Google searches?
The only way to get rid of ads on Google is to block them. There are a few steps to block ads. To stop getting pop-up ads while using chrome on your computer
First, you need to open google chrome and click the three-dot option that is visible at the top right of the web page.

Click on settings to open chrome's settings in a new tab.

Once you open settings, you will see the privacy and security option under which site settings are listed

After clicking on "site settings," you will get an option "pop-ups and redirects," which is under the header "content."

Click on the "don't allow sites to send pop-ups or use redirect" option.
To prevent pop-ups on chrome for Android and iPhone, follow the given steps
Click on Chrome.

Click where you see the three dots are and then, select settings.

You'll find site settings. Click on that option.

Tap on Permission/Site settings if you're using Android or Content Settings for (iOS).

Tap on "pop-ups and redirects" and turn it off.
To turn off personalized ads
Log into https://myaccount.google.com/.

Go to the privacy and personalization option.

Go to ads settings.

Turn off the "Ad personalization" option, and this will disable the personalized ads that are based on your activity, which you keep getting while browsing on Google. Personalized ads can be from anything you have searched on Google or based on your YouTube history.

After turning off the Ad personalization, you need to click "got it" to confirm.
Turning off personalized ads, however, doesn't guarantee to block all sorts of ads. To do that, you need to block ads permanently on Google.
Can you block all ads on Google?
On Google service, to block ads, you need to select the "more" option on the ad and then select "block ad." To block ads on sites and apps partnered with Google, select "close" on the app and "select stop seeing this ad."
How do I permanently disable Google ads?
If you're using Google ads as a business owner or an individual, you probably already know how it works. Google ads help to promote websites and businesses on Google searches. However, you may not know how to turn off the ads service permanently. There are a few steps you need to follow
Log in to your Google account and open Google Ads Settings.

Click on "Ads Settings."

Click on "Opt-out Settings" to opt-out of tailored ads on Google or across the web.




How do I stop advertisements permanently on Google?
Installing AdBlock on Chrome can be one of the ways to stop advertisements on Google permanently. First, open google chrome, and click the three dots icon in the upper-right corner. From the drop-down menu, click on "More Tools" and then select "Extensions" to own a new tab.

Click on the "settings," then the link of the extensions tab, to open the chrome web store page. Type "AdBlock" in the "search the store box" and press "Enter."

Click on the "Add" button when the extension window appears. It will take a few seconds to install the AdBlock extension.

Restart Chrome.

AdBlock can help to browse through chrome without getting advertisements or pop-up ads.
Add Google custom Search to your website
–