What is "Search Google or type a URL"?
"Search Google or type a URL" are the default words displaying inside the address bar or search box (also called Omnibox) when you open a fresh tab in the Chrome browser. As it suggests, you have got two options to continue using Chrome. And, that is, you can either type a keyword of what you want to search into the Omnibox and click enter to see the search results or just enter the specific website's URL into the Omnibox and press enter to go to that site's page.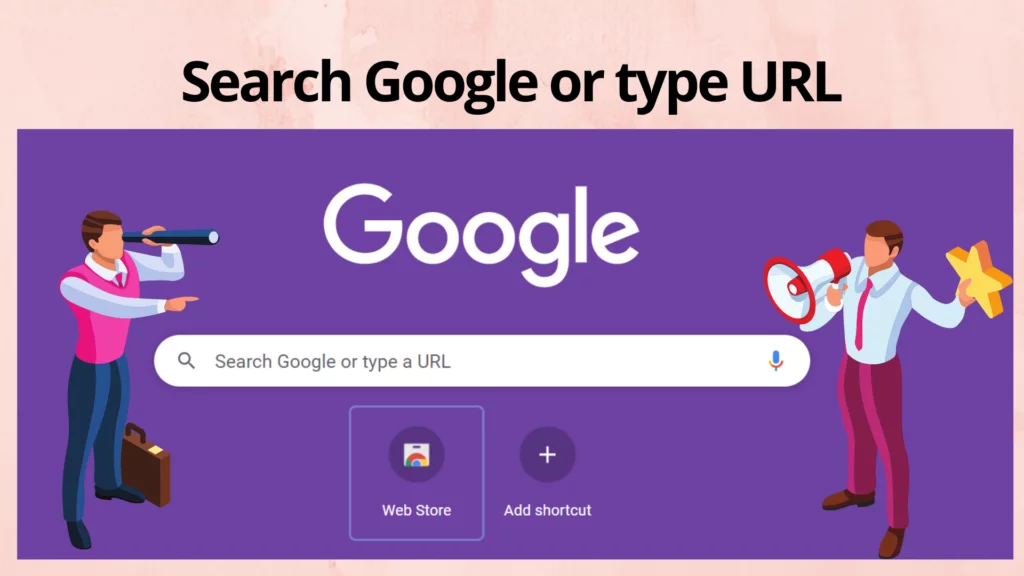 To understand better, let's consider this instance. There are many options for visiting websites. These include social media, other websites, directly typing the URL into the address bar of your browser, and search engines such as Google, Yahoo!!, Bing or DuckDuckGo. However, the two most popular methods of loading a website from a browser are via search engine/engine or by typing the URL in the address bar.
However, which is the best method to load a particular website? Do you want to visit Expertrec? Or do you type expertrec.com or www.expertrec.com into the address bar? Or should you type www.expertrec.com (or expertrec.com) into your address bar? While there's no one way that works for everyone, depending on certain circumstances and factors, one option is better than another.
Which to choose, Search Google or type a URL?
You can search the web for the URL of the page if you forget it or don't know the exact URL. To search Google, enter the keyword and press Enter. Google will list all related websites and then let you search the library. After that, you can browse through the sites and pick which ones to open.
You can search the web using keywords you know. If, on the other hand, you know the exact URL of the website you are looking to visit, doing so through the search engine or your browser's search bar is not only time-wasting but also unnecessarily uses up bandwidth/internet/data plan — you'd first have to load up the search engine result page before proceeding to the website.
A search engine is useful if you have the exact URL of the website, but only specific content. More precisely, using Google's site search (site:search) feature.
Instead of using the search engine, you can visit a website by entering the URL into your browser's address field. This saves bandwidth and time. If the website has not yet been indexed by Google, it may not show up in the search results.
The best way to find the URL address of a website is to enter it in the address bar.http://Orwww.Prefixes don't have to be used. Many websites have lightweight URLs that point to the main URL. This allows users to visit the website quickly and without typing the entire URL address. Instead of typing, www.facebook.com. For example, you could type "http://www.yourbrowser.com" in the browser address bar. By typing fb.com you will be redirected directly to Facebook.
Do you want to transform your on-site search bar to a Google-like search with features like instant search, autosuggestion, facets and filters, unlimited AJAX searches, search analytics, and voice search? You are at the right place. In this article, we'll explore the need to copy, paste links or press "search" anymore. We'll consider a fast and highly customizable and e-commerce friendly search bar, as we'll discuss Google custom search engine and how can we overcome the major downsides by using the Expertrec custom search engine.
FAQ
What is Google Custom Search?
Google Custom Search helps you adding a custom search box to your website so that people can find the desired product available on your site by searching the relevant terms. Interestingly, you can easily configure your custom search engine to search whatever sites you want. Therefore, people that are using the search box on your site will only see the filtered results from the sites that you want to show them. Or, you can say that it is a great way to limit the search results to domain-specific results only.
How to add a Google custom search engine to your website?
Google custom search is free to use. But the issue is that you will get a lot of ads that can easily steal your website visitors and stop the potential conversion. Though it is not recommended if you are planning to take your online business to the next level, it is a great way to get started and explore how on-site searches work.
If you are using some eCommerce platforms like Shopify or any website builder like WordPress or Wix, then you may see that they also have a default search bar. Now, the issue is that the default search bar is quite limited in terms of providing decent search features. After all, getting no results for the products that you already have on your website is not a good thing.
Therefore, maybe these default search bars are up to the mark in some sense but they make more harm than good in the long run because of inefficiency. For that, you can get Google search engine by just copying the code and pasting it.
Steps to add a Google custom search engine to your website:
Click on Google Custom Search Homepage to get started.
Moving forward, you need to enter the URL of your website and click on the create button. After that, your Google custom search engine will be created. You can give it any name that you prefer.
In case if you want to add more than one website then simply click on "Add" at the top and add the other websites from where the search results should be shown.
After you have created your custom search engine, click on the control panel and you'll see a basic tab. There are two ways to add the Google custom search engine to your website. You can always click on Get code and copy that code. After that, you need to paste the code into the website editor. The second option to copy the Search engine ID also works in some cases. For that, copy the ID and paste it under the Google custom search module or plugin.
That's all. Now on, refresh your website and the Google custom search engine will now appear on your website.
Perks of having a custom search engine (GCS and Expertrec)
There are some major perks that most custom search engines offer. These include but are not limited to:
Easy setup
You recently tried to set up the Google custom search engine. Was it hard or easy? Did you face any difficulties while implementing the Google custom search engine? Or if you stumbled, were there enough sources to help you out? The answer is pretty obvious. It takes even less than 5 minutes to get installed and witness the results.
Customization
UI and UI plays an important role. It directly influences the visitors and only if the first impression is good, the visitors will move forward. Patterns, contrast, design, white space, search bar position, everything goes hand in hand to visualize the bigger picture. But, unfortunately, not having a search bar and having the default, not at all customized search bar can cause problems.
Increased Relevance
The digital market is very competitive irrespective of your niche, making it difficult for companies to rank higher in search engine results. However, a custom search engine provides relevant search pages. Customers feel annoyed when they type something in a search engine only to find that the particular item does not exist in the results, displaying "No results found."
Many websites have multiple irrelevant results that cause them to lose online traffic. Relevant results, on the other hand, help with two major things –ranking and matching.
Discovering more Users
Learning about user intent is the fastest way to increase conversion rates. The more accurate results customers get, the more likely they will purchase.
Custom search engine options provide customer data, including their location, gender, age, interest, digital footprint, etc. For example, custom searches may indicate that most people in the UK prefer looking for shipping information. Businesses can rank the FAQ relevant to those searches higher when identifying users from a similar region.
That's why you'll get access to some basic UI customization features in the Google custom search bar and the Expertrec search bar will take the search experience to the next level. Moreover, you can customize the search results as you desire. The implementation and customization become way handy using the "Look and feel" section of the Expertrec dashboard.
Read search google or type a URL custom for more information.
Pros & Cons of Google search & URL search
"Search Google or type a URL" is something you type when your life is going nowhere, and you have so little going on that you have to type something so worthless. It might also be typed when someone is bored and on the verge of crossing the plane of existence into an infinite pit of boredom.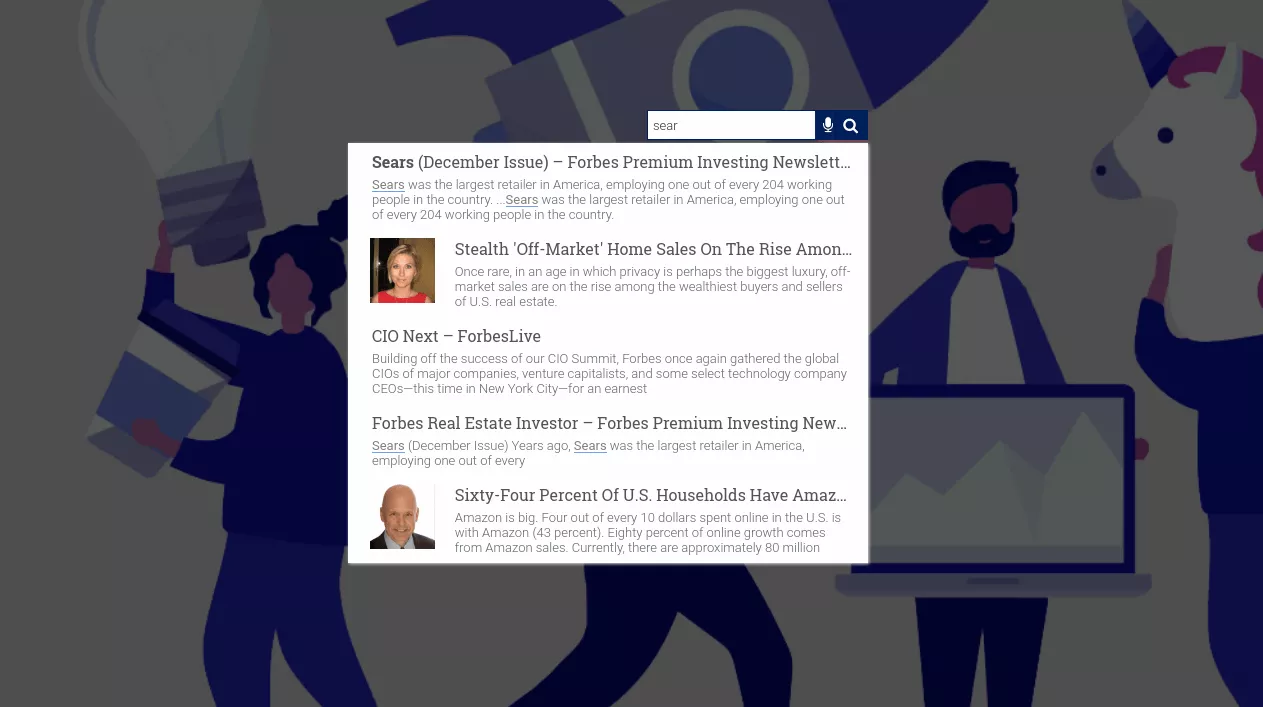 It could also refer to a feature in google chrome's canary update. Chrome Canary, like the legendary Canary, lowered into mines to early-detect dangerous gases, is a leading-edge version of the Chrome browser. Google uses it to test out ideas, and one idea in the new Chrome 36 version of Canary is to bury the full URL into the top-level domain name. So even navigating within the site shows only the site name.
The field that some still call the "address bar" was changed to be more properly known as the Omnibox, reflecting the ability in Chrome (and Firefox) for users to type a search term into that box and get Google results, as well as to input a URL.
When only the top-level domain is showing in Canary's Omnibox, you can still see the full URL by clicking the "origin chip" button – that is, on the domain name itself. Searches related to search google or type a URL custom. Since the update in 2014, Google has further changed the appearance of the Omnibox to now display the full URL and function as a search bar.
If you are searching for something, you should be looking for personal search engines that can help you easily and also helps you create amazing results when searching for the name of the product you are looking for, the keywords to find for that product, etc. You can go for the Google search API alternative.
If you are looking for a Google custom search alternative, there are free site search options or site search apps that might help.
You might want to see more than ten results in the Google SERP (Search Engine Results Page) since it sometimes becomes cumbersome to click on next to view more pages. In this case, there's a simple solution. You can read about it in this blog.
Lately, Hugo has been marked as the most popular open-source static website generator. In addition, you can read about Hugo google custom search.
You can try the free version of Google custom search, but it comes with Ads. If you have multiple websites and want to add them to a custom search, you can do it. Read about how to add multiple websites in google custom search include sites in bulk.
Building a google search bar for website is no longer as difficult as it used to be.
You can also remove the ads from Google custom search by trying other alternatives.
Read this blog if Google custom site search is not working for you
You can create your own Google search script to add search capabilities to your site.
What Features Does Google Search Console Have?
Google Search Console is a world-class custom search engine option that provides users with the necessary information to run targeted searches. Thanks to its unique features, the platform has grown into a trendy forum in the past few years. Here is a list of the top features that Google Search Console offers its users.
Keyword Analysis via Queries
Google Search engine offers extensive performance reports and lists the keywords used most on your site as "queries." You can find each keyword used under a single table and the number of clicks on the keyword. You can use the query data to improve page performances and enhance your site's average traffic on the pages.
Asses User Patterns
User patterns include the way users act on the website. These patterns can include the following elements:
Average CTR (click-through rate)
Average position
Total clicks
Total impressions
Website owners can determine what the users do on the website using these metrics and make necessary changes.
Page Ranking and Positioning
Users can access the Page tab on the Google Search Console and see how individual pages on the website rank. It is the fastest way to optimize websites and make on-site adjustments. The tab also represents the average position of the pages so that you know where your SEO or ranking may lack.
Site Coverage Information
This feature on the Google Search Console lets users create an XML site map and the total number of pages listed by Google. Larger sites can maximize the feature's use by claiming a fully detailed sitemap and using it for better traffic allocation.
Page Indexing for Submission
URL inspection tool on the Google Search Engine Console allows users to add pages that they have still not indexed. It also checks for mobile-friendliness and breadcrumbs on each page. It is the fastest way to reduce errors and un-indexed pages and maximizes website ranking quicker. You can also view the coverage report to get a clearer image of your existing website.
FAQs
How to Search For a Specific Word or Phrase in Google
There are various types of ways in which your search works on Google. Here are some ways how you can make your search work.


Personalized:
First and foremost, you should make your searches personalized, and for that, you need to go to the option of preferences under Google Settings, located in the lower right corner. You can change by using normal search settings, or you can have a better result using the advanced settings feature. With this settled, you would be able to retrieve the best results for the word that you have been searching for.


Words In Quotes:
When you search two words right after another like 'Rose Lily'. The search might show results for Rose and Lily. However, both of them might not be positioned in the right order when you get your search. So you have to write the words in quotes as "Rose Lily". Only then it will filter out your results to specific people and companies' names and will be sequential.


Terms And Conditions:
If the exact phrase doesn't fetch you what you need, you can specifically exclude certain words using the minus symbol. "Rose Lily" for example, here the word would be "Rose Lily -flowers". After searching this you will not get searches for flowers and it will target other options.


Either Or:
Usually, if you use two words simultaneously in the search engine it joins them using "and". It means that the search engine always considers both words to find results. But if that's not what you want then you should use the "or" term which will help you search for one or the other term. These types of searches could be useful in finding things that you may not be so sure which term should be used for.


PDF Searching:
If you are on the hunt for some scientific information, chances are that you will find them in PDFs. These were, and to some extent still are one of the best ways to search for scholarly knowledge. But in recent years it has lost some of its usefulness because anyone can make a pdf now. Still, it may work if you use it together with the other techniques mentioned.



Domain Searching:
Sometimes it is better to stick to one place to get all your information out. If you want to get a result from a specific domain, then you can search the words that you want to search and write that website's URL after it. It helps for sites that do not have a good search engine. For example, "strawberries www.example.com".


Ranging Values:
When you are searching for something that has two ranges, such as- 'publication strategies used between 1940 and 1960', then if you use ".. ", or "1940.. 1960" , it will show suggestions with dates ranging between 1940 and 1960 respectively.


What is an Omnibox?
The Omnibox is a method of API that will allow you to get a keyword and register it with the address bar of Google Chrome. It is the search bar that you can see on your Google page or Chrome Browser. This API displays the suggestions which are customized using a specific keyword known as the manifest key.
For example, let's suppose you start typing in the browser's address bar. The browser will then display a drop-down list that will contain suggested pages, referring to what they have typed. Because of this, you can gain quick access to pages from your bookmarks or your browser history.

The steps on how to use an Omnibox are as follows:

1. First, your Omnibox extension needs a key in your manifest.json file which will define a keyword.

2. After this you should type in the keyword followed by a space, and then the extension will get an event named Omnibox.onInputStarted. You can also use this extension to define one of the first searches which are displayed in the drop-down menu of the address bar using Omnibox.setDefaultSuggestion()

3. If the user continues to type characters then the extension will get Omnibox.onInputChanged events. The event listener will check the current value of the words that the user has typed in and it will fill up the address bar with suggestions. If there is a default suggestion set using Omnibox.setDefaultSuggestion(), then it will appear on the first line in the drop-down suggestions.

The Omnibox is not as hard to use as one might think. It remembers what you have searched, and offers you suggestions based on that. It can also be websites. If you use Chrome or Chromium-based browsers, then Google Chrome would be the default search engine. But you can also use some other party facilities as well. However, Google is the best contender though. You can also change the search engine if you go to your browser setting, and it will allow you to search through that website as it is on your list of search engines. Omnibox can be a calculator or an event scheduler. You just have to know how to operate it well.
Google Autocomplete Prediction:
1. Keyword Research:
The Autocomplete function is ideal for your SEO Keyword Planning. But one of the main features it can do is give valuable ideas for good quality long-tail keywords. If you don't know what long-tail words are, it is very simple to understand. It fulfils content gaps, and is used in high-value blog posts and educational content because it can give many options. You could also use third-party tools to enhance your experience.



2. Search Intent:
Nowadays the search engine algorithms, such as Google's, give more significance to search intent rather than just the keyword search volume. Google Autocomplete also features and displays a list of trending terms that other people are searching for.
This sheds light on what the user wants. It helps marketers a lot.


3. Brands And Companies:
You can search for a name, a brand name, and a company. Whichever you want will produce suggestions and you will see them and elated searches through the autocomplete drop-down list.