Read this blog on Google custom search discontinued for more information.
Google site search is being discontinued as of April 1st, 2018. Google custom search is an easy alternative to switch to but contains ads. I have mentioned a list of Google site search alternatives in this article – link. Some of these are ready-made solutions that can be plugged and used. Expertrec is one of such solutions. (Google Custom Search is not discontinued, only Site Search is discontinued).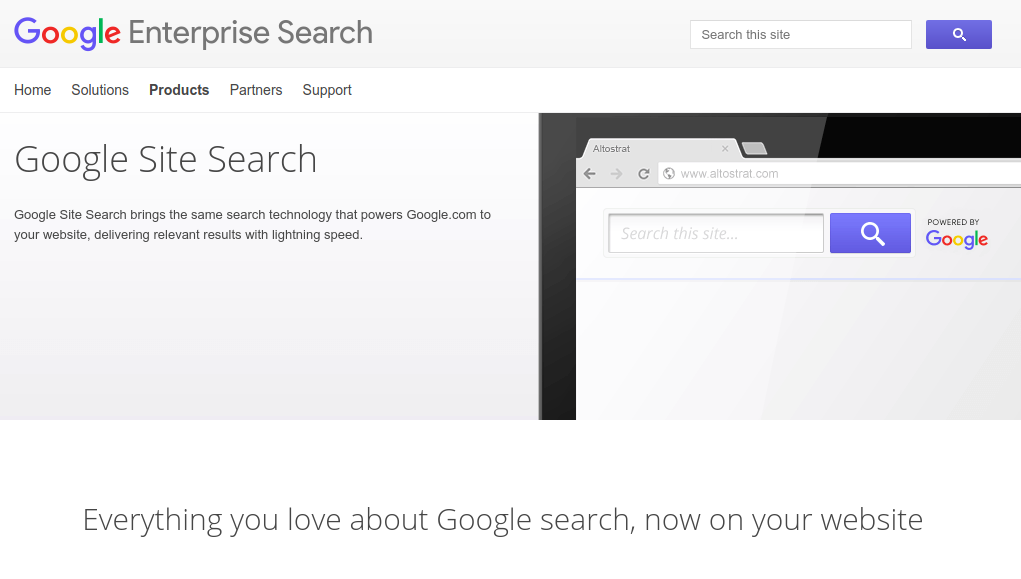 So, what's the big deal? Search is search, right? The short answer: no. The longer answer is a little more complex, but still easy enough to understand from an end user's point of view. While not everyone utilizes website search features, those who do are looking for something specific and expect to find answers quickly and easily. If people are on your website and using the search feature, they are obviously interested in what you have to say or in what you're selling, so catering to them is important. If your search function is weak, users may leave your site, meaning you're losing a fan, a lead, and a customer — and in 2020, that is simply unacceptable.
They now offer a single free option, Google Custom Search, which can provide basic search on your site. But it will include advertisements in the search results (unless you're a registered nonprofit organization or accredited educational institution). Site Search and CSE is sister services that allow website owners to use Google's very own search technology to power search features for their sites.
Create a Google Custom Search Engine Alternative
Here we will visit the steps required to add the ExpertRec Custom search engine to your website. This is one of the easiest setup processes of all the available options out there and is highly recommended.
Navigate to 

https://cse.expertrec.com/newuser?platform=cse and signup with your Google ID.
Enter your website's URL when prompted. You can select a server location near you and add the URL of your sitemap if you wish to. These will be auto-detected otherwise.
You can play around with the settings and

 

customize the UI

 

as the crawl runs. Once it is complete, you can check out a fully functional demo before taking the search to your website.
You can take the search to your website with little to no effort. All you need to do is to paste the code snippet available on the

 

dashboard

 

on your website.
Add a search engine to your website at 9 USD per month
ExpertRec comes with more customization options that you can explore. You can read this article to find a more detailed guide on the installation and configuration.