The market for online education is expanding rapidly. By 2025, the global eLearning industry is anticipated to reach a combined value of $325 billion. And, Thinkific is one of the initial names that come to mind when discussing online course platforms. More than 75 million students have taken the Thinkific course builder facility. That is all the inspiration you will need to begin as an instructor. We'll examine Thinkific's whole feature set and discover why coaches, business owners, and educators consider it one of the most effective platforms for creating online courses.
What Exactly are Online Education Platforms?
Online course platforms allow you to create, host, and monetize courses online. There are numerous platforms for courses, including free, paid, searching platforms, and others.
Your needs will determine the learning management system you use. For instance, if you already have a steady traffic flow, you might select a more expensive platform like Kajabi or Podia. At the same time, a platform like Thinkific will be more helpful if you want visitors to be able to find your course.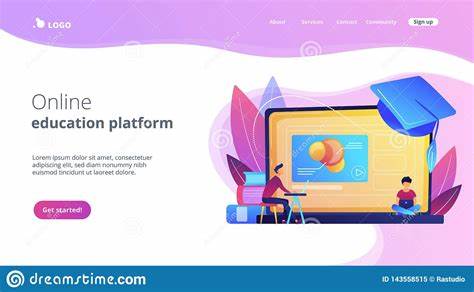 What Qualities Should a Platform for Online Courses Have?
You should pick an online course platform that best meets your specific requirements and the course you intend to sell.
But the following characteristics apply to all platforms:
You must have no trouble using the site, uploading courses, and adding students.
It is Within Your Financial Constraints
There are many various free and paid choices available that will meet your budget.
It Consists of all Features That You Will Require
You might need email list management, the ability to handle comments on videos, or something else entirely. Make sure the platform you select is supportive of your objectives.
Best Platforms for Online Courses in 2023
Thinkific

Skillshare.

Udemy

LinkedIn Learning

Coursera.

DataCamp.
Thinkific Course Builder: What is it?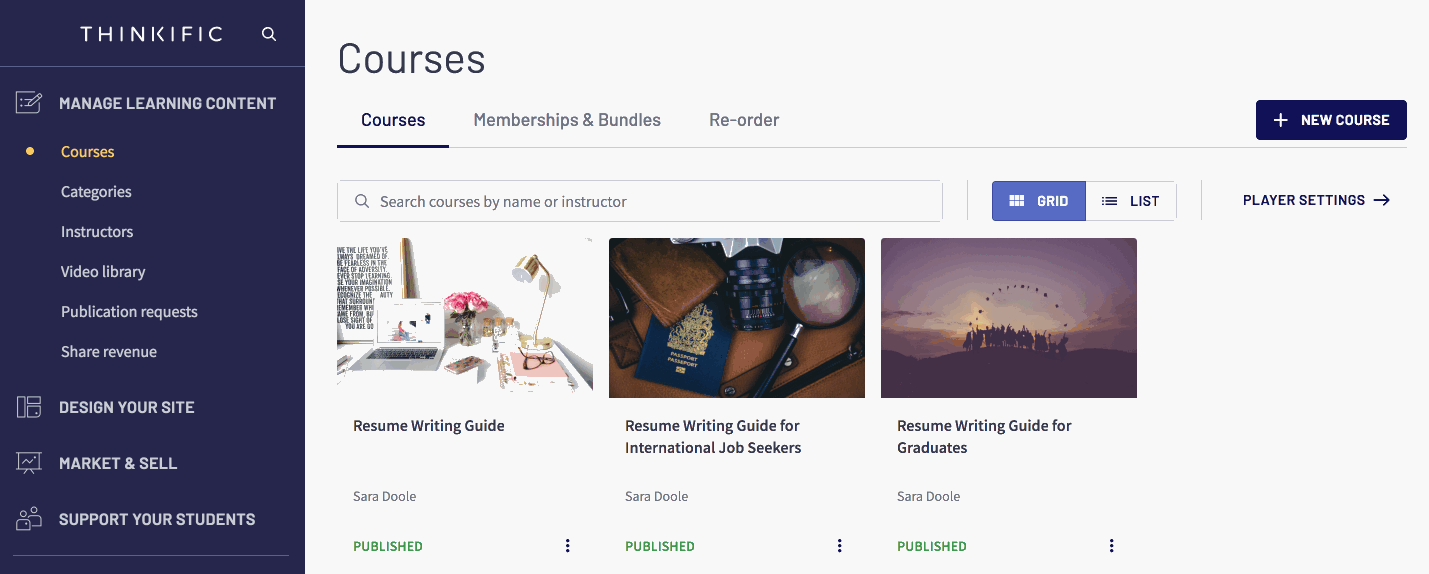 A group of businessmen created the well-known online learning platform Thinkific in 2012. Its main objective is to give instructors and students a rich and convenient teaching and learning environment.
It is an efficient way to create, manage easily, market, and sell your online courses. The best part is that you can use Thinkific without prior technical knowledge, expertise, or experience. So, even elderly Granny can quickly develop some expert cooking or knitting classes!
You only need to worry about producing quality content when using Thinkific because it is a cloud-based program and all your stuff is kept on their servers. You no longer have to worry about organizing your video and audio lessons on your smartphone.
Additionally, it offers hosting for your website. Therefore, if you are a newbie, you can get started for nothing! You only need to sign up on Thinkific to get started.
How Many Customers or Users are There on Thinkific?
One of the top platforms for course developers is Thinkific. Why? To know that, continue reading on.
On Thinkific course builder, more than 75 million courses have been taken, and a community of more than 50,000 creators exists on Thinkific.

Through Thinkific, educators have sold online courses valued at more than $650 million in 190 nations.
Thinkific Pricing Deals
The free plan is perfect for someone testing out online coaching or course authoring. To begin your first course, it provides some fundamental features.
If you're prepared to advance with your online coaching, the Basic plan offers you access to all the features you'll need to build a quality course. It also gives you a choice to select a custom domain.
Thinkific Pro is intended for business coaches or other professionals who are prepared to advance their coaching practice. Thinkific offers all the features, bells, and whistles needed to run a fully equipped course. The possibility to add up to 5-course admins or authors is one of the most intriguing features, along with credentials, priority support, and live classes via Zoom.
If you run a profitable online coaching business and wish to expand it into a larger company, the Premier plan is for you. The premium plan is set up with the most automation possible. You may add up to 50-course administrators, create five site admin accounts, and an on boarding package for quick author training is available.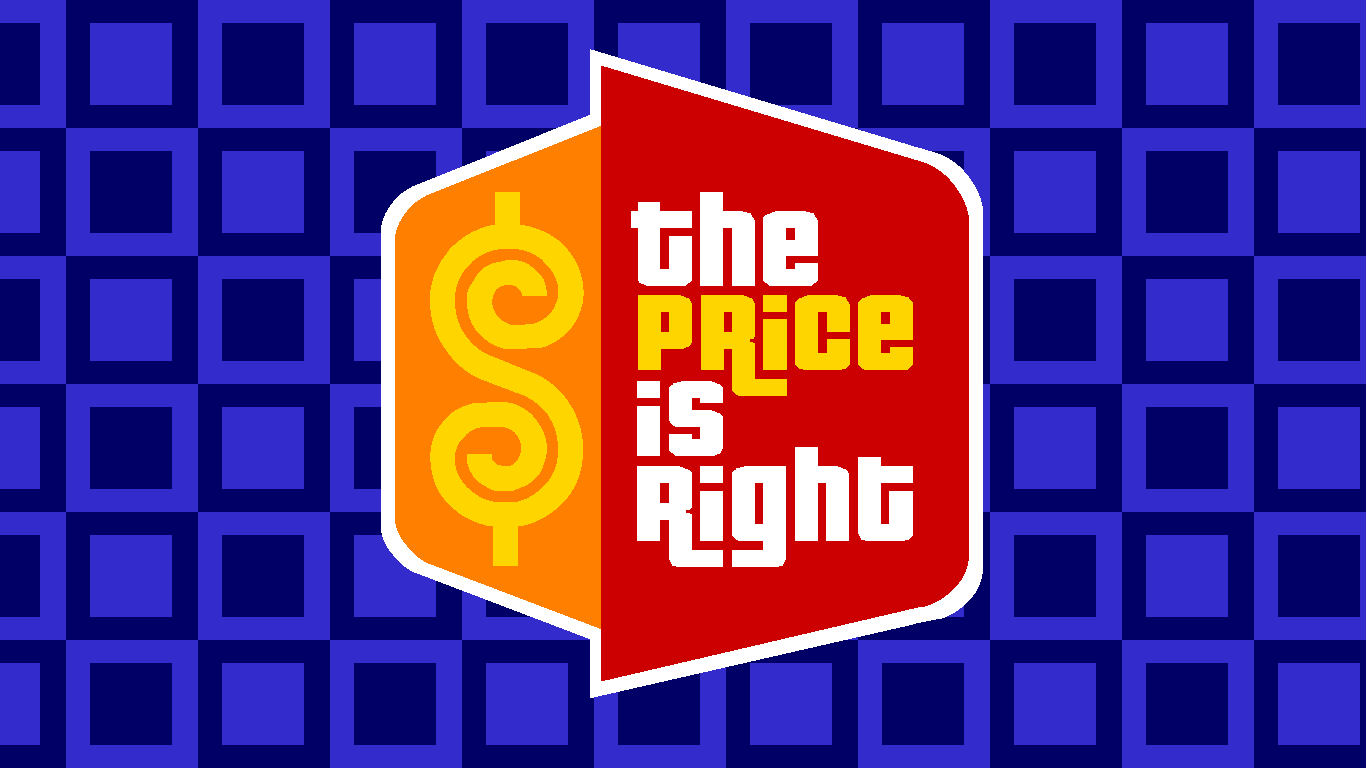 Why Should You Use Thinkific?
           1.Free basic plan
Thinkific is one of only a few platforms for creating online courses that provide a free basic plan which includes the option to build a course. There are no upfront costs, but you can upgrade as needed.
           2.Zero Transaction Fees
 Thinkific's lack of additional transaction fees is a positive aspect for most educators.
           3.All Plans Enable Instant Fund Access
Thinkific provides this service regardless of your plan. Even websites like Teachable and Udemy lack this capability.
           4.Custom Domain
 Thinkific offers custom domains as part of its basic package for individuals who want to utilize their domain.
            5.Assistance Over the Phone
Thinkific is one of the few websites that provide phone support. Furthermore, Thinkifics' email customer service is quite responsive.
             6.Robust Third-Party Integrations
Though Thinkific lacks a sophisticated marketing module and integrated email support, it makes up for these shortcomings through third-party interfaces. The most widely used analytics systems, payment gateways, and email marketing platforms are all available.
Wrapping Up
So, till now you got all the details about the online platform Thinkific. Now, you know that Thinkific is a feature-rich platform that provides all the tools required to earn money online by offering incredibly lucrative online courses. So, have you ever used any software for building online courses?
The Thinkific course maker will undoubtedly be an effective tool for you if you wish to have a lucrative career in developing online courses. Beginners can start with the free plan at any time. However, if you want to explore its full potential, sign up for a 30-day free trial of Thinkific's commercial plans. Let's hope this aids your decision on the value of using Thinkific.
Add expertrec search to your website