Do you want to improve your website by creating something out of the box? The best way is to add a Wix search box to your website.
Wait a minute! Did I just say something contrasting? Well, that's how some complex things can be simplified. As the sub-sections are made to break down the massive tutorials, the same theory follows in forming steps to resolve an intricate problem.
Adding a search bar in Wix can surprise you with several drastic improvements. According to Search Engine Journal, in a survey of over one thousand US respondents, one-third of them agreed that they are put off by the absence of a search box. Also, more than 40% of them consider a search box as a crucial feature that a website should have.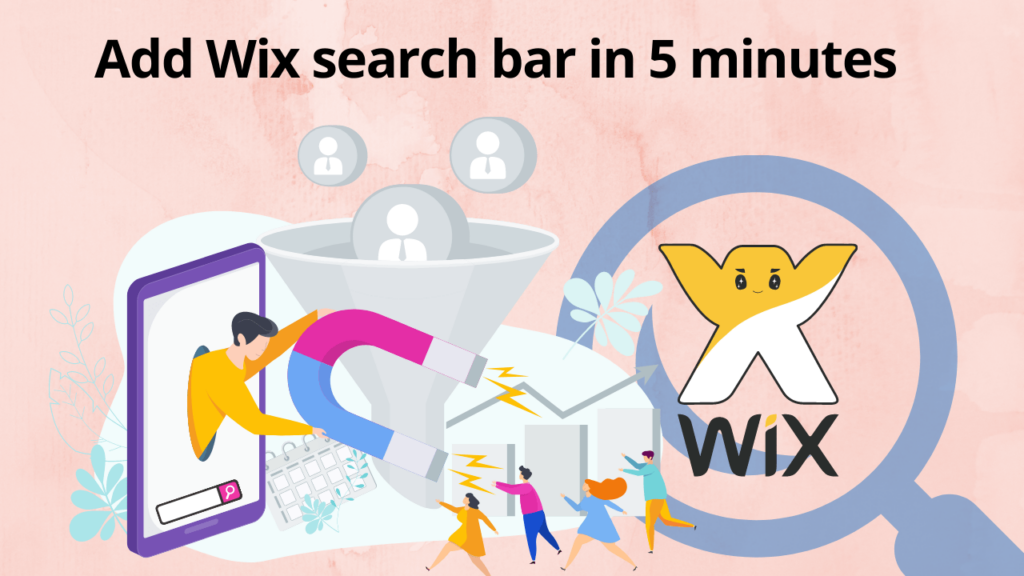 Add Fully Customizable Wix Search Box Right Now
I hope it effectively highlights the importance of adding a search bar to the Wix store or Wix website. Or, better say, it determined the heavy impact that you can create by adding a search bar to the Wix website.
How to add Wix Search Box to Your Website?
Here's a surprise for you. You can add Wix Search Bar without coding!
There is a quick 5-step process to add Wix Search Box to your website. Let's go through it.
Step 1| Select a Platform for Expertrec Wix Search Box
Click on the link https://cse.expertrec.com and select a platform.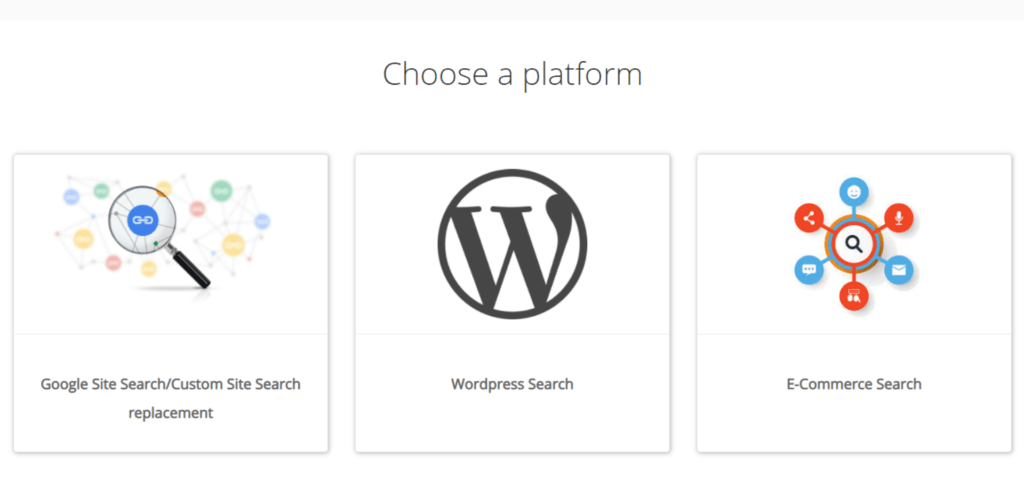 There are three options:
1. Google Site Search/Custom Site Search replacement
2. WordPress Search
3. E-Commerce Search
Select one according to your preference.
Step 2| Sign in to Expertrec Dashboard
Sign in with your Google account and enter the website's URL. You are all set to proceed for Expertrec Wix Search Box.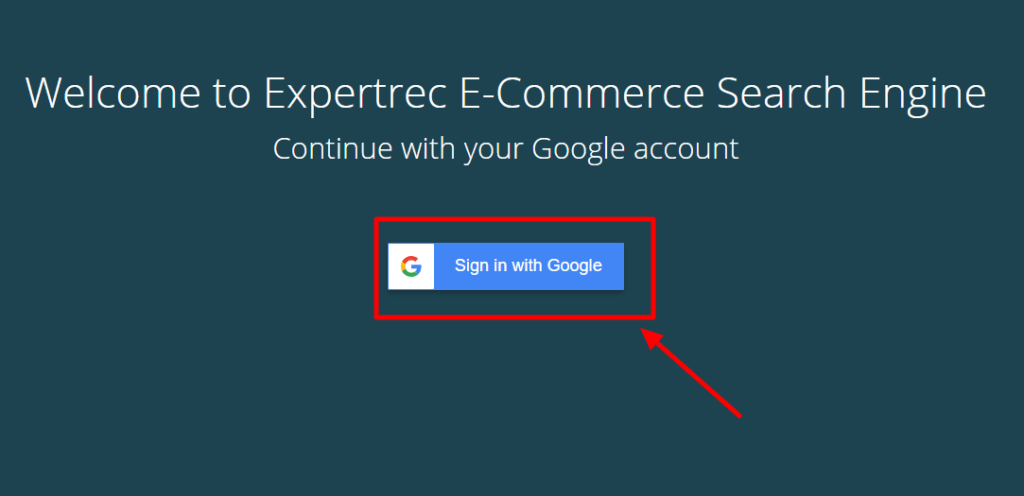 Step 3| Copy the Code from Expertrec Dashboard
Copy the given code in the head section.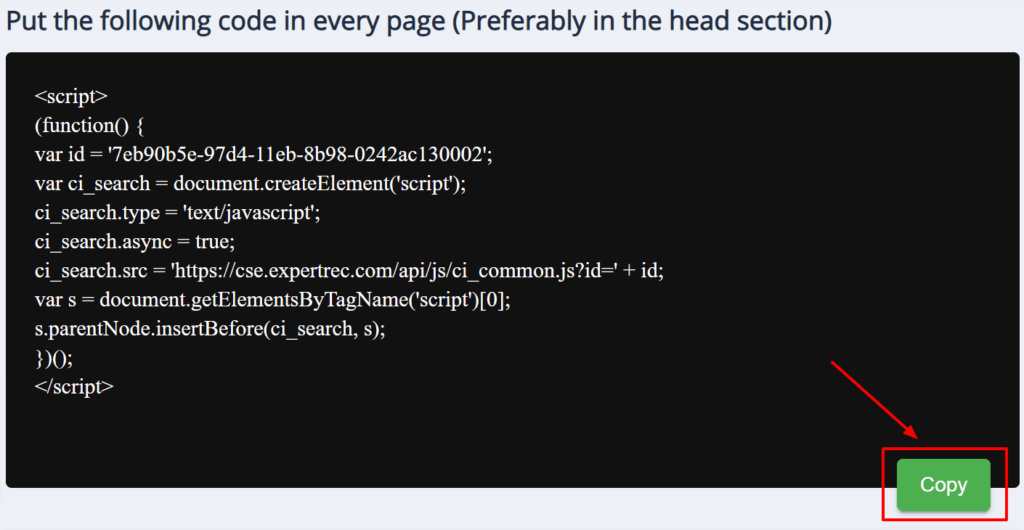 Also, don't forget to copy the HTML code.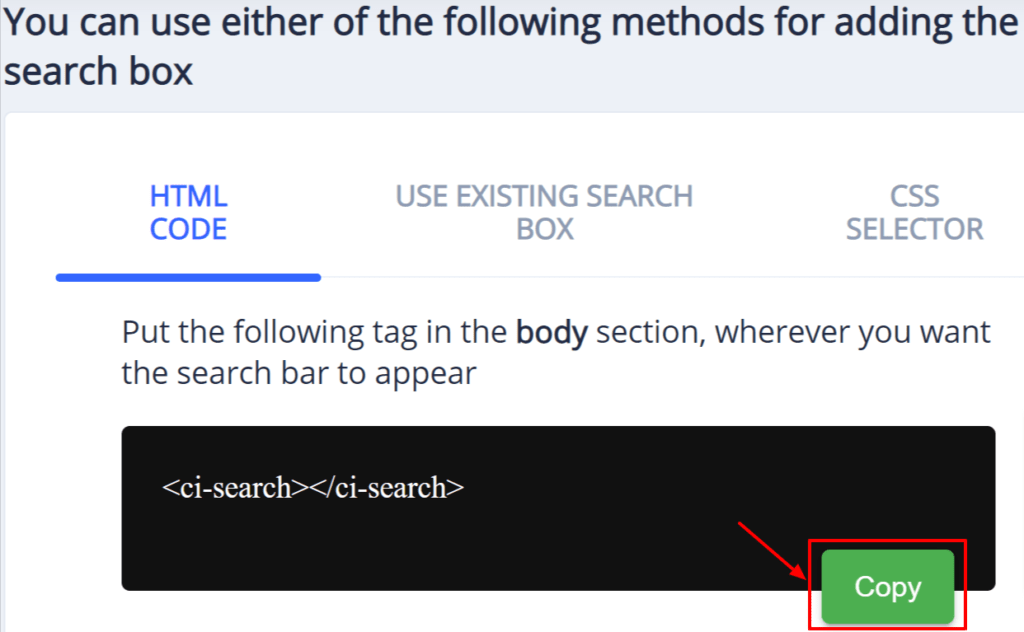 Here, you can choose any of the three given options. Use HTML Code to get a new Expertrec Wix Search Bar. Use Existing Search Box by selecting the second option and update the settings. You can use CSS Selector to place the search box on your website wherever you want.
Step 4| Open Wix Settings and Paste the Code
You can build your websites either in Wix ADI or in Wix Editor.
If you are building your website in Wix Editor, click on the Settings menu at the top left and select My Dashboard in the drop-down section.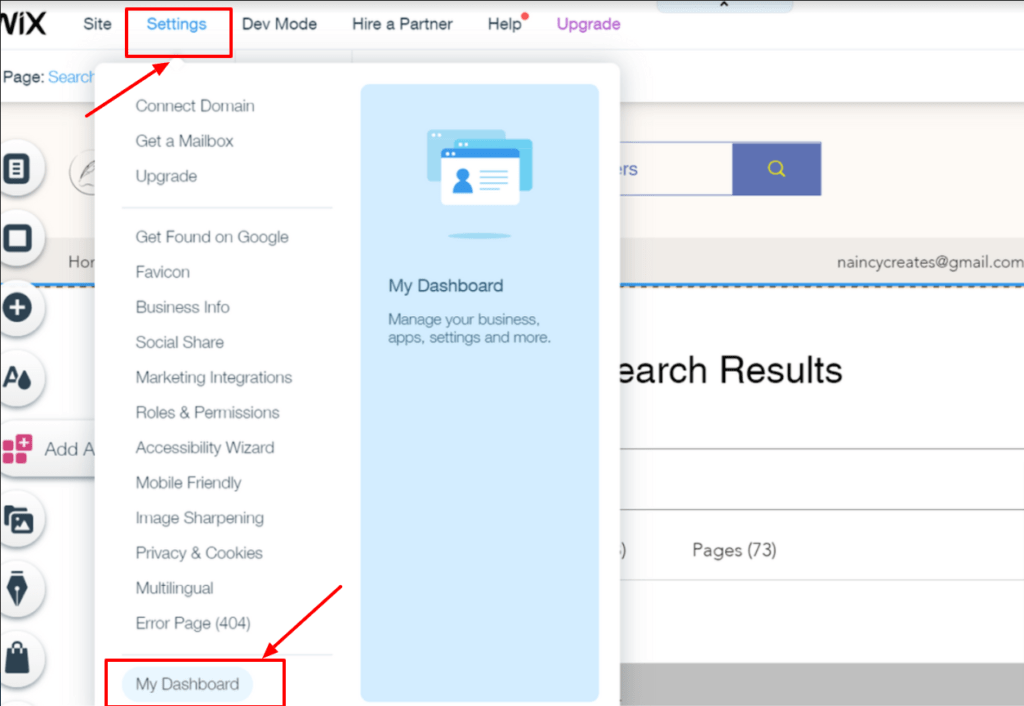 If you are working in Wix ADI, click on the Site menu at the top right and select Dashboard in the drop-down section.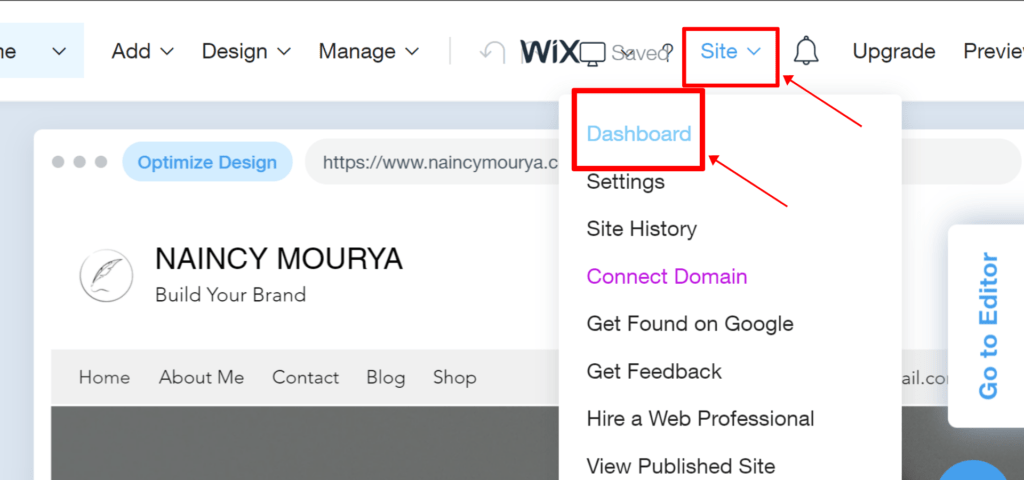 In the dashboard, click on the scroll down to the last and you will find the Settings option.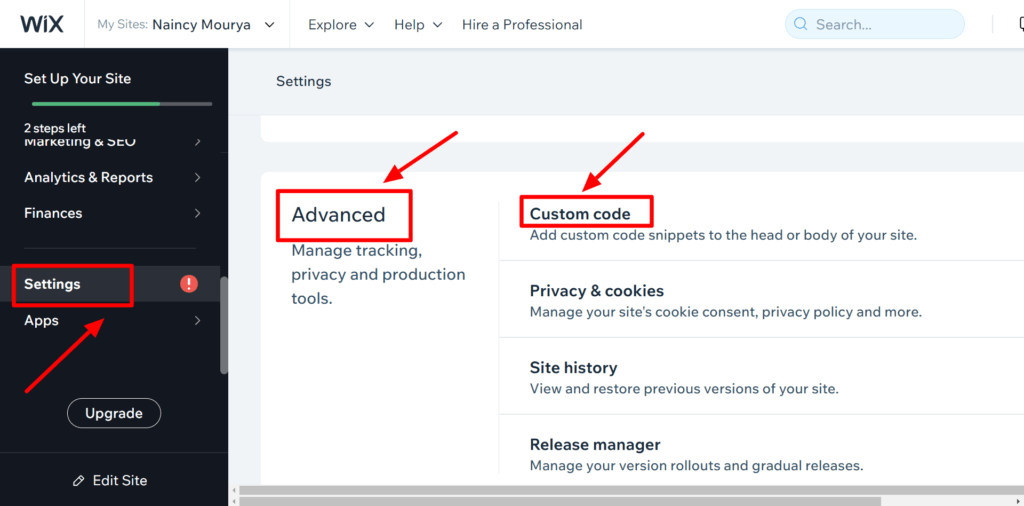 Click Settings -> Advanced -> Custom Code.
Click on Add head in the Custom Code.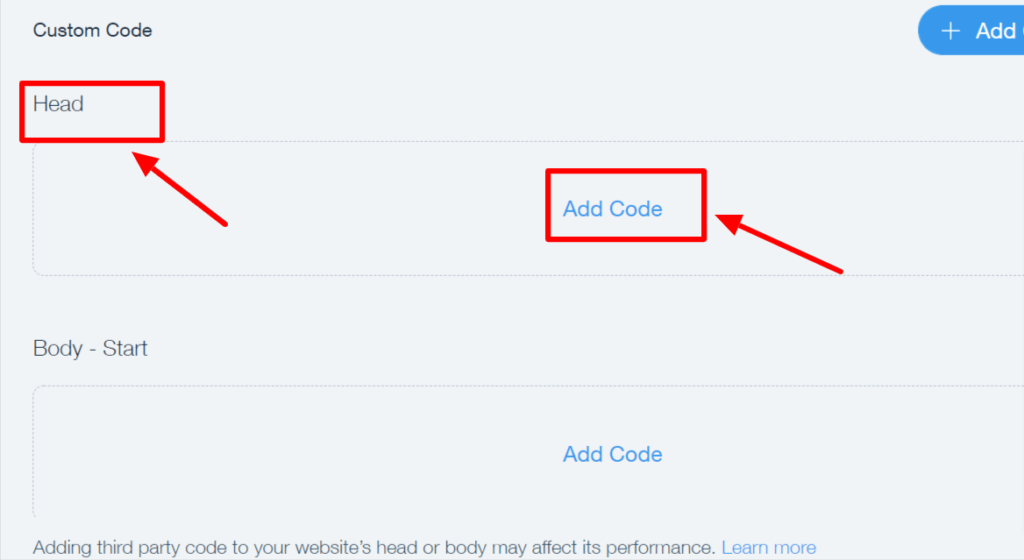 A dialog box will appear titled Code Settings. Paste the code and the HTML tag as shown below: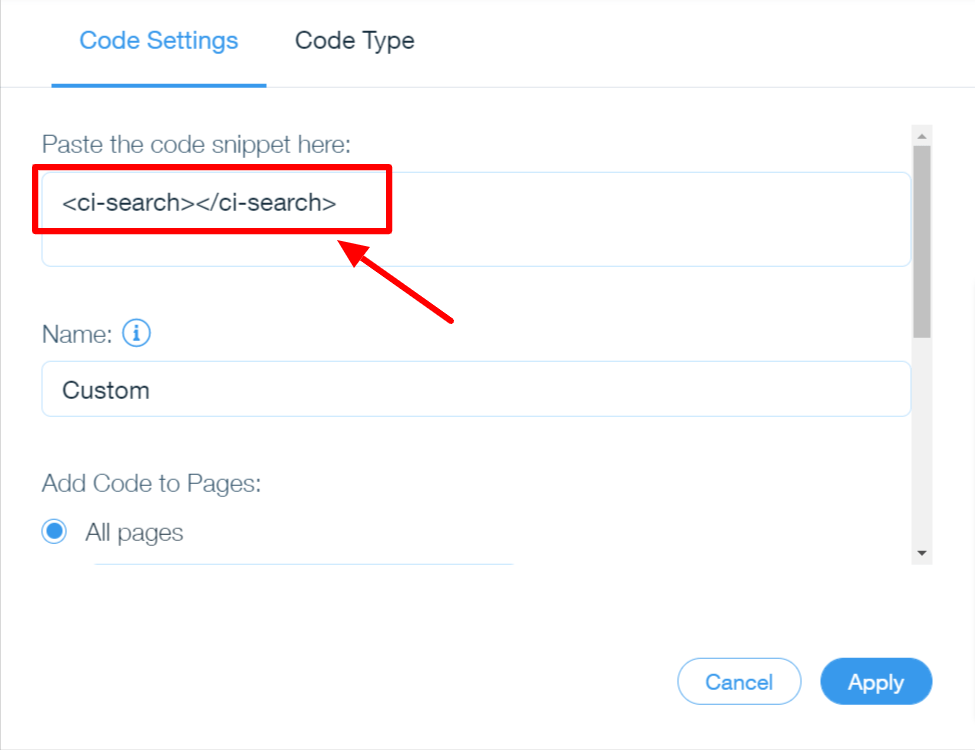 Make sure that by default your code is going to be applied on all the pages.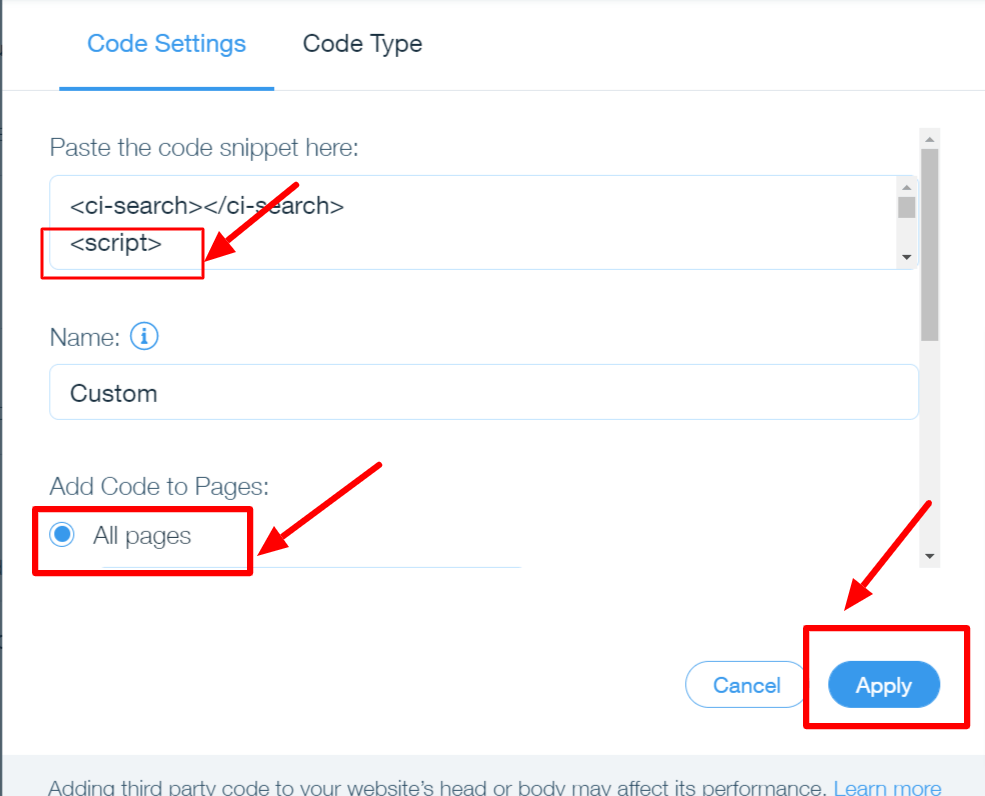 Apply the code.
Step 5| Refresh the website
Refresh your website and witness the Expertrec Wix Search Box without coding at all.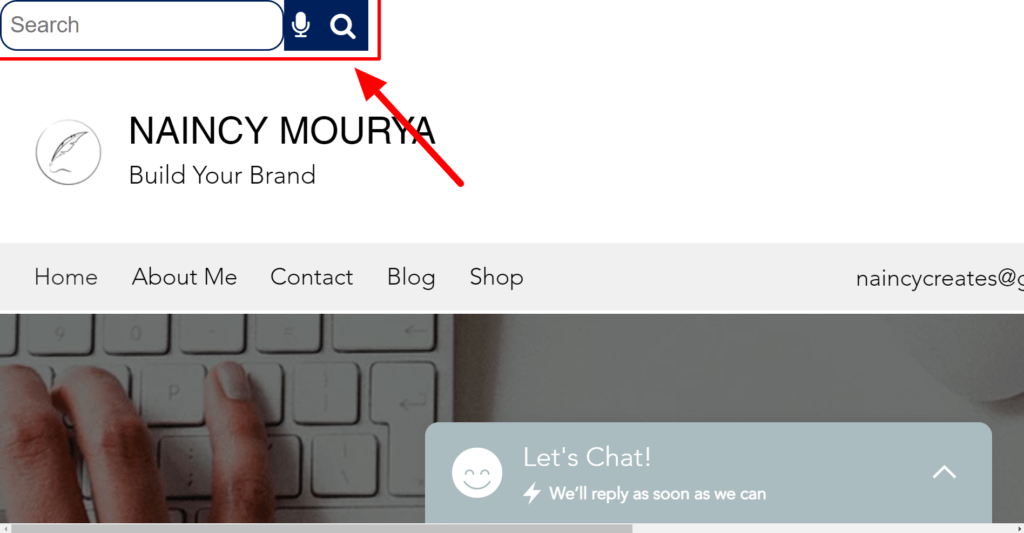 Why Wix Search Box?
According to the Web Server Survey by Netcraft in January 2021, there are over 1 billion websites present on the World Wide Web. These numbers are increasing at a rapid pace. If you want to be the one in billion who ranks at the top of SERP, you must not leave any chance of getting closer to your goal.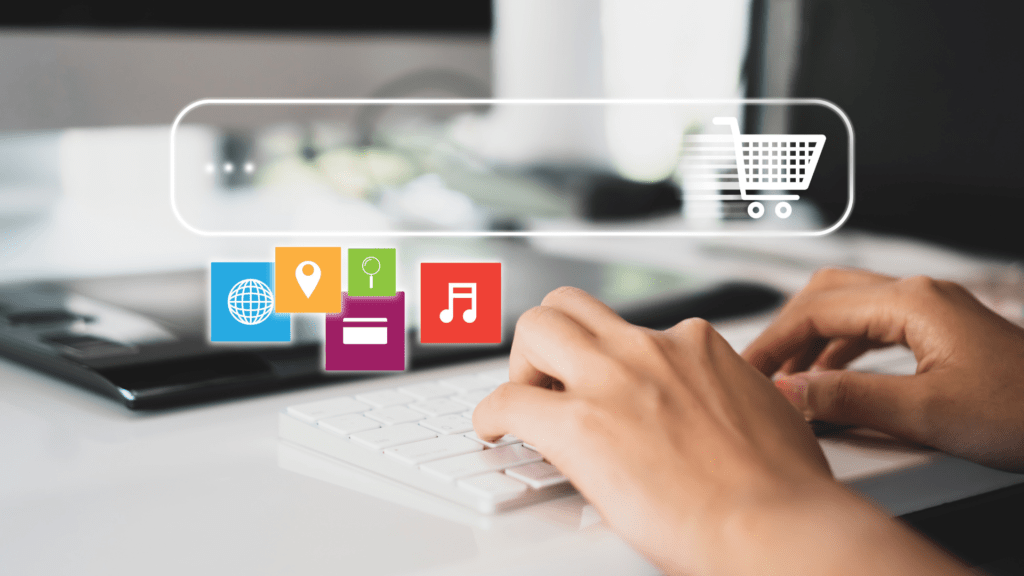 A search bar is definitely not going to rank your website at the top. But, it will surely optimize your website regarding user-friendliness with some more hidden possibilities.
Ask and you shall receive. Search and you will find.

– Matthew 7:7
It literally translates to search for the product or services on Google to land on relevant websites and fast-forward to that website's search bar to find the required product or service.
Why You Must Go for the Right Wix Search Box?
Users don't search in terms of your keyphrase or focussed keyword. For instance, consider you have an online clothing store. There, most of the users won't search for your keyword "Heel Boots Duo." They may search something like "Boots with Heels" or "High Heel Sandals Combo." They are quite different, but your search bar must be able to understand the user's intent.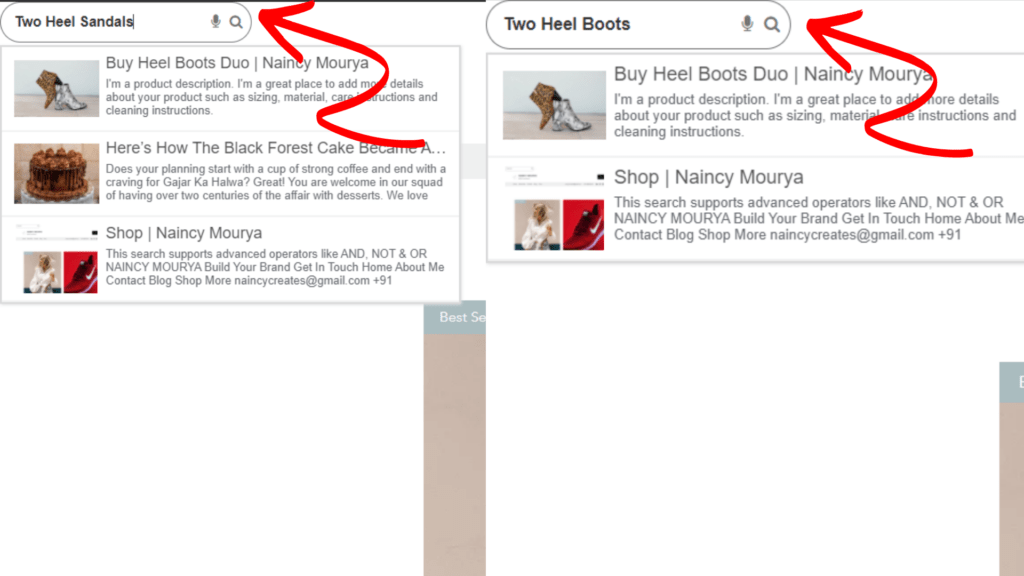 The Wix search box would merely serve its purpose if it can understand what the user is trying to find. And, it can only be possible if you install the best Wix search box that understands "the words of users." The default Wix search bar has many limitations. According to a study by Baymard Institute, even the top 50 e-commerce sites are unable to fulfill the search support for the words people type in the search box with 100% accuracy.
It highlights a prominent issue that you can solve by creating a Wix search box for the Wix website. Here are 7 ways to help you:
1. Place One Call-to-Action Right in the Search Box
You have a Wix search box for your visitors. You must make the most out of it. Don't leave the placeholder text empty. And, residing on these traditional calls like "Search…" and "Search here", you are not utilizing the enormous potential by having a Wix Search Box.

Instead of "Search here," write "What are you looking for?"
You can give them some initial cues to get started.
"Search for bestsellers."
"Explore recent trends."
It will help the users in getting an overview to head-on to the Wix Search Box.
2. Enable Auto-Complete and Recommended Search
Whenever users try to search for a product on your website, it is always better to enable auto-complete search. It helps them easily find things as the moment they start searching, the Wix search box will be auto-completing their query and recommending the relevant searches if that query is not present on the website.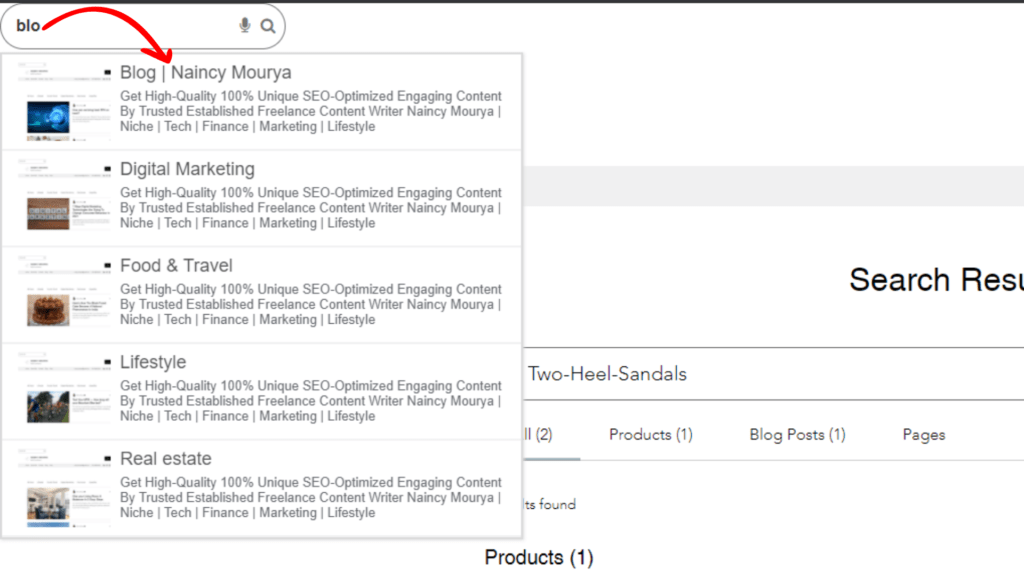 It will not only make them aware of other relevant products and services on the website but also save time from typing lengthy sentences.
3. Gain Advantage by Tracking Searches
You can know the latest trends and what visitors want by tracking the search terms. Integrate Google Analytics with your Wix Search Box and witness the change. It will help you in knowing about the rising demands and trends. It will eventually reveal some patterns that you can benefit from.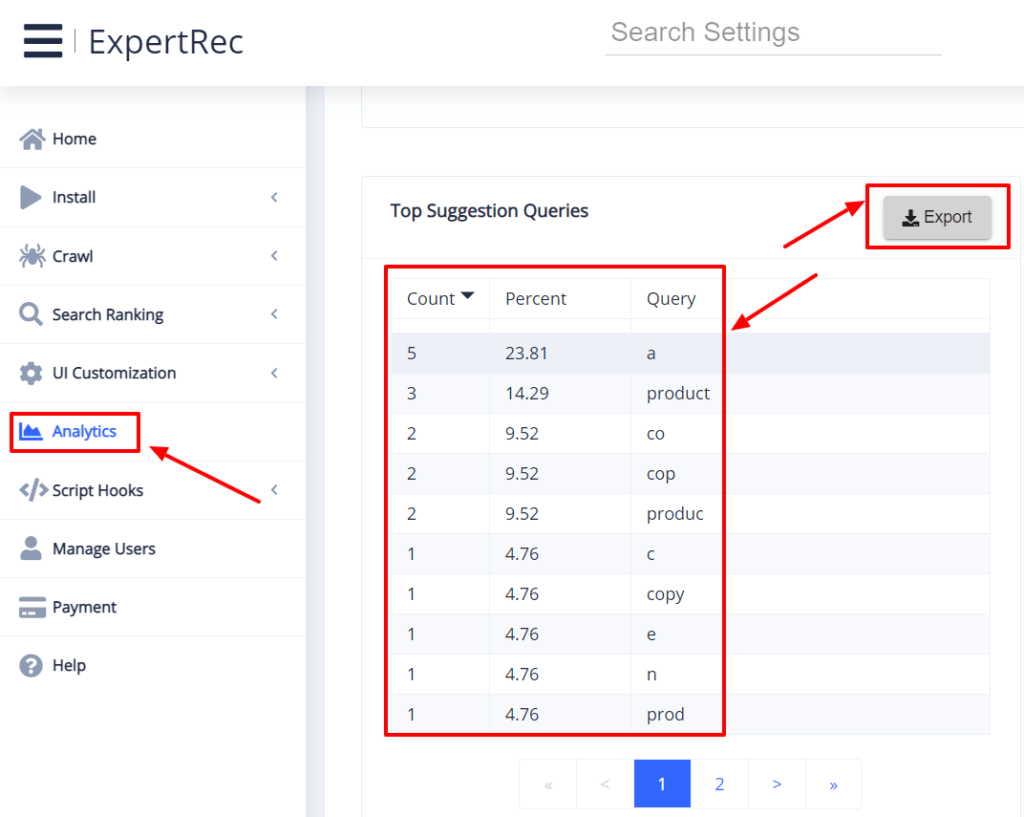 You can place the in-demand searches at the top so that new visitors will also get a chance to explore your products or services.
4. Beyond Customer Acquisition
Think about this situation. Some of the new website visitors are typing something in the Wix search box. It explicitly indicates that you are getting access to untapped user data. They are expecting something from your website. Now, tighten your seat belt and work on their demands after a deliberate decision.
You can examine the traffic logs and click-through rate of the products that you are expecting. What if they are searching for something that is not currently available on your website? You can restock as soon as possible and even increase the prices if the demand is high.
Once win the heart of a new customer, s/he is going to be a repeated customer. Because your website is helping them to land directly on the product page without navigating here and there. You will get continuously repeated customers. It leads to successful customer retention!
5. Locate the Search Box at a Visible Space
Your Wix Search Bar should be placed in such a way that it is clearly visible. At least, your visitor should not search for a search box. Place the Wix Search Bar in a highlighted space. Like at the middle of the header or the rightmost side. All you need to make sure is that the users must be able to crash on it without thinking even once.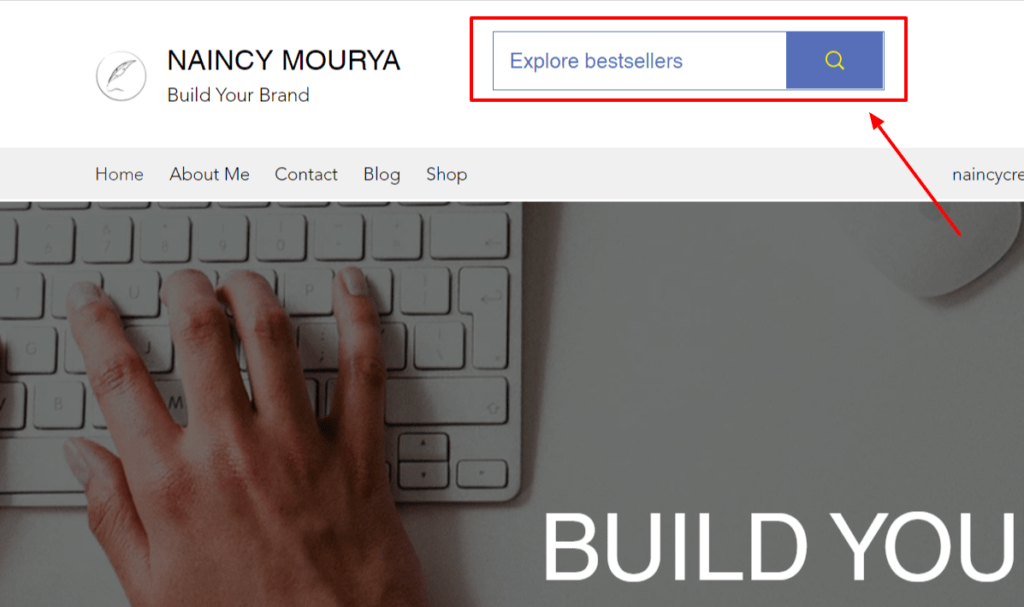 You can use minimalist color for your Wix Search Bar especially if the background color is dark, and tone it accordingly. Adjust the length of the Wix Search Bar according to your buyer's persona. For instance, Amazon has a long search bar so that users can type requirements like model number, other features, etc.
6. Implement JavaScript
Whenever the user types something, make sure that the placeholder text inside the Search Bar disappears. It is an outdated practice to make users delete the placeholder text inside the Wix Search Box and start searching after that. Make sure that you are using JavaScript so that the placeholder text of the Wix Search Box itself disappears whenever the user starts typing inside it.
7. Search Wins Over Navigation for Mobile Devices
When the question comes of being better on Desktop, usually, both of the options (Search and Navigation) are supported. But in mobile devices, undoubtedly, Search is the absolute winner. Or, better to say, mobile users love to search instead of navigating through the website.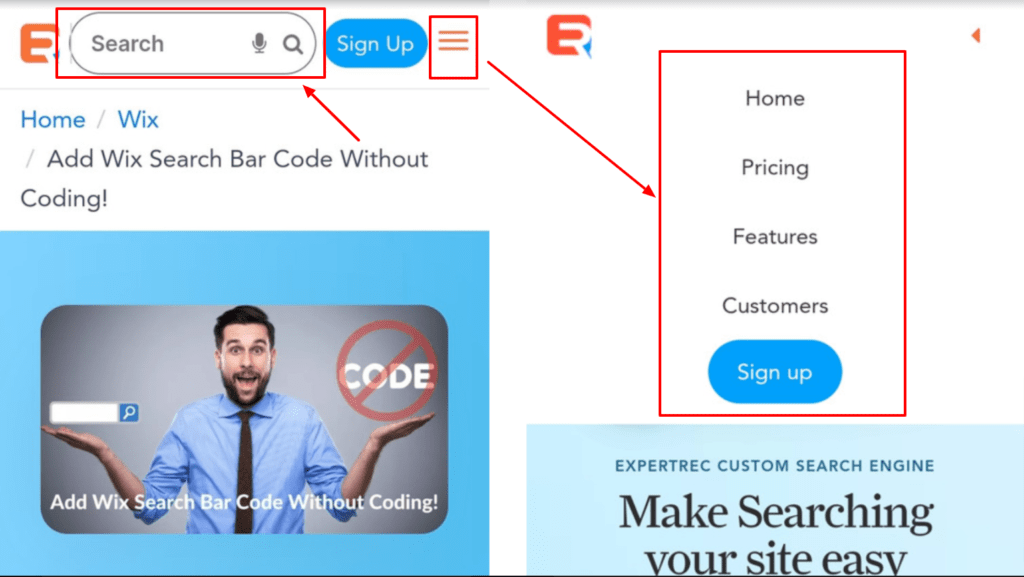 It's quite obvious that Mobile devices have a compact screen area. Making your website responsive for mobile devices, you can use React. Make sure that the UI is highly attractive. With a robust On-Site Search Bar, your website has the power to transform the user experience in an improved manner.
Add Fully Customizable Wix Search Box Right Now
11 Benefits of Expertrec Search Box
The default Wix On-Site Search has a lot of limitations that you can find in this blog. Let's discover that extra edge that you can have over your competitors by installing Expertrec Search Box (without coding).
11. Zero Ads
Search Engine Journal has mentioned that ads cause more than expected harm. And if you are using a search box that shows ads, then it's a red alert. It can show ads even of your competitors. Losing customers by a click on ads is not a good option in any circumstance.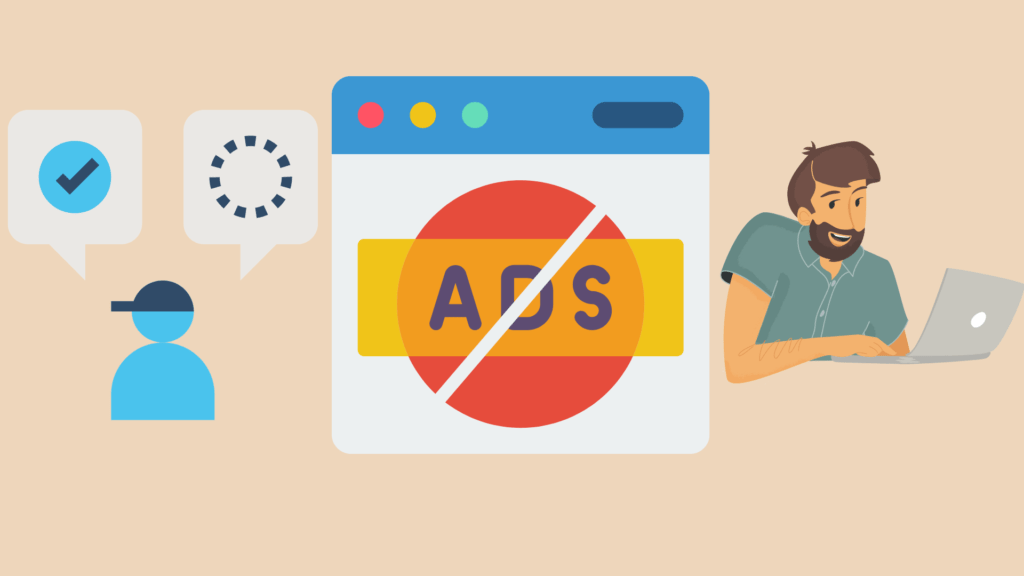 Expertrec promises of ZERO Ads. Your Expertrec Search Engine will follow all searches without showing any ads.
10. Quick and easy setup
You won't need to sit for hours and code a search box for your website. And, debugging snatches heavy moments that may result in scratching the head to get the issue fixed.
Expertrec has a quick and 5-minutes easy setup. You can do it all on your own by signing in with your Google Account to the Expertrec dashboard.
9. Fast Search (Search as you type)
You may hear of the load time of a website should be 1-2 seconds. But, the interesting thing is 53% of mobile users leave the page if it takes more than 3 seconds of load time. That's the strength of competition to load almost instantly.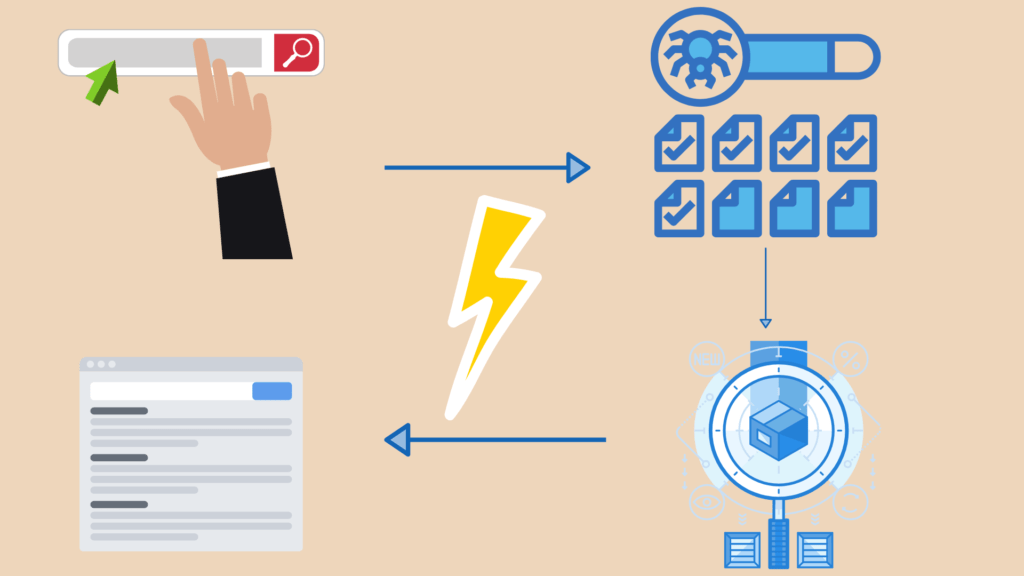 Expertrec search bar shows the result at the speed of light. It means it will show the result right at the moment someone is searching for it in the drop-down section.
8. Highly Customization
The default Wix Search Box is heavily limited when it comes to customization. You can only customize the search box. There is no option to customize the search results which is also a significant factor.
Expertrec allows you to customize a new and an existing search bar and search results to a limitless extent. You can even raise a support ticket and reach out to the team members for any help.
7. Search all file formats
Content from other file formats is going to be ignored by the default search box. But, as you know, there are times when a portion of the content kept in a spreadsheet or PDF matters to you and the website visitors.
Expertrec Custom Search Engine is going to index almost all the file formats, be it PDFs, excel sheets or word doc, etc.
6. Multi-device compatibility
Sometimes, the default search box is unable to maintain compatibility with some devices (for instance, tablets) and with some operating systems.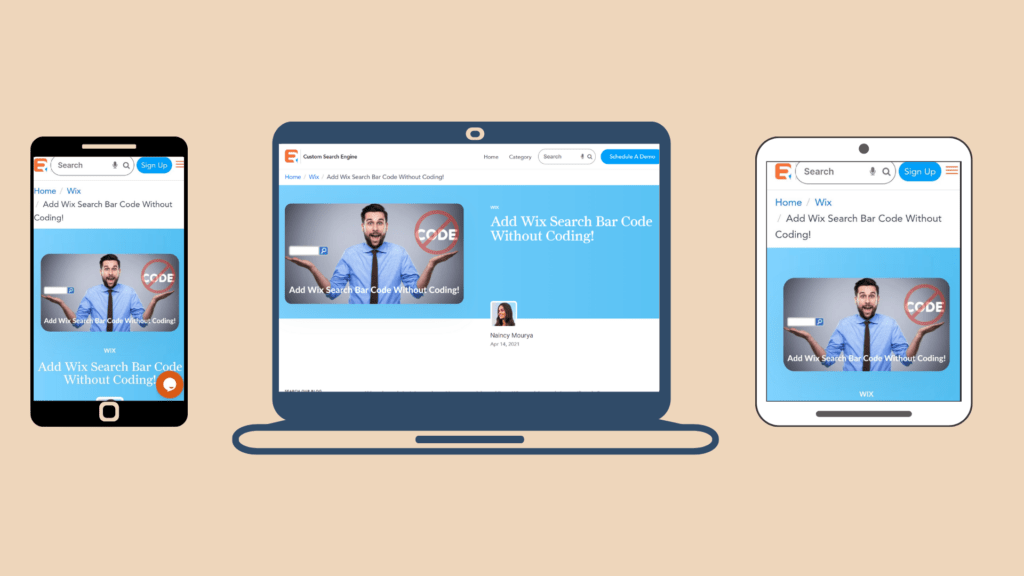 Expertrec search bar is compatible with all the devices. Its UI functions with absolute perfection on mobile devices, desktops, and tablets. It works on all the operating systems.
5. 30+ Languages
The default Wix Search Box shows results for only one language. Having an extensive user base signals for a multi-language search option.
Expertrec supports 30+ languages. It clearly indicates that users can search in multiple languages and get relevant results.
4. Free Trial
You can sign up to the Expertrec dashboard to access a 14-days free trial. There is no credit card required. You can easily select your plan and witness the benefits of having the Expertrec Custom Search Engine for free.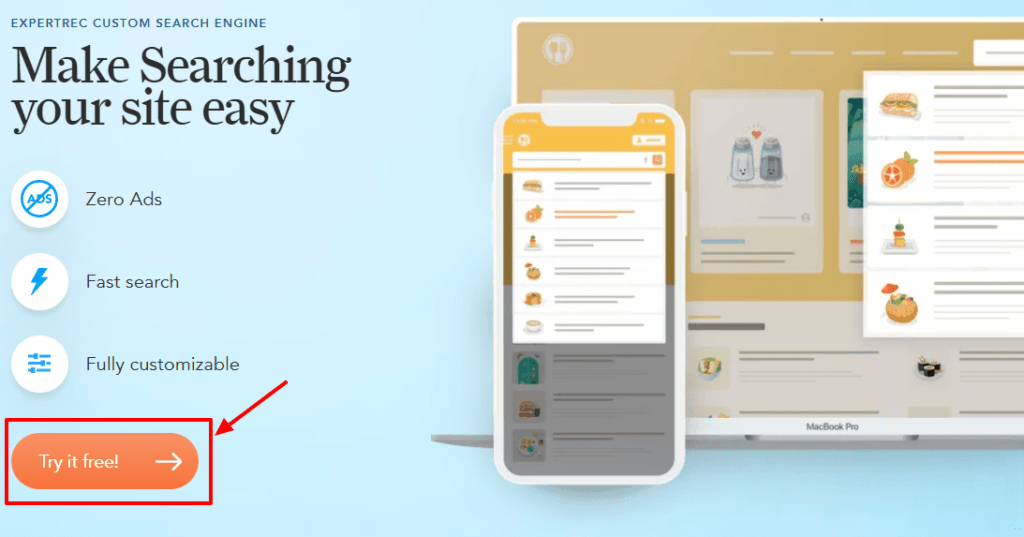 3. Multi-platform
Every Content Management System has a separate Search Bar. For instance, you can get the default Wix Search Box by clicking on the "+" in Wix Editor and selecting your search bar from Menu -> Site Search -> Wix Site Search, and adding it to your Wix website.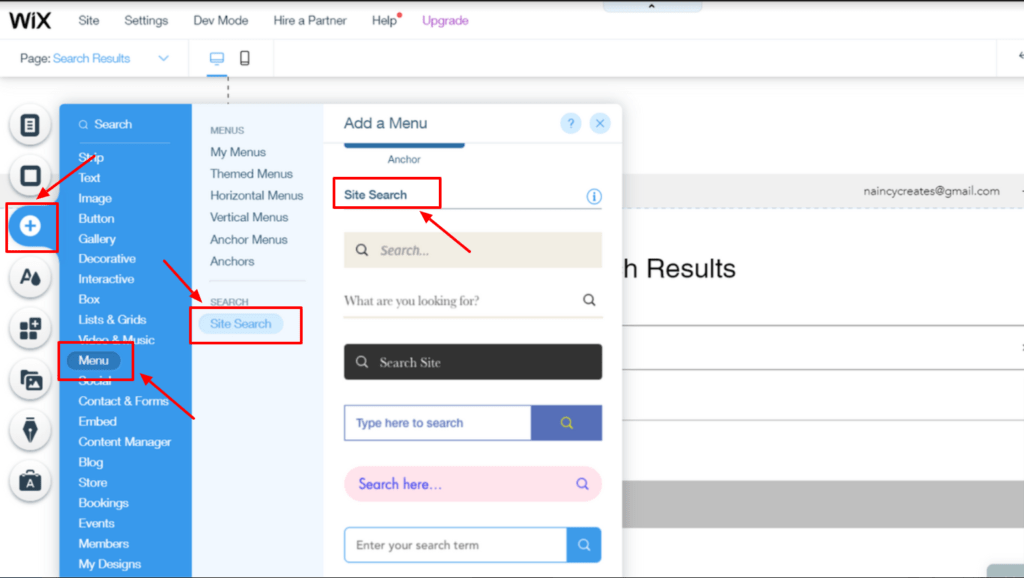 Expertrec Search Bar supports multiple service providers. It can easily integrate across all the prominent Content Management Systems like WordPress/ Wix/ Joomla etc.
2. Quick Content Indexing
Expertrec crawlers index the content behind the login pages. It helps in displaying the relevant result whenever the user tries to search for it.
1. Voice Search
When experts say voice recognition technology is the future, it depicts the enormous potential of integrating the Search Bar with voice search. Voice assistants have changed the way users search and behave on websites. Well, as I mentioned, the default Wix search box does not have a voice search feature.
Expertrec Search Bar can take your website search to the next level. The voice search will show results based on the spelled words and do the work without typing.
The Bottom Line
That's how the secret to rank #1 is revealed. Provide more value, better experience, and effective service to your website visitors than other competitors. Adding Expertrec Search Box to your website will take your website one step closer to the goal.
Get Expertrec Search Box for your website and add any number of websites you want. It will work on all of them. You can use any Content Management System. Witness the impeccable values and insights provided by Expertrec Search Box.