Meta search engine is a tool that releases user requests and sends it to multiple other search engines and combines the results.It also helps to display them in accordance with their source. At present, there are many search engines available on the internet.
To effectively build a search engine, the very first thing you need to do is search for a real search engine, that can be used together and that brings us to open Google.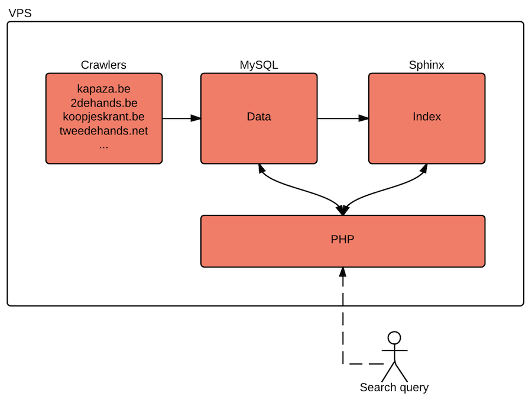 One way to do this is use php based SphinxClient 
Overall setup & goals
Just before we sit to divide the technical parts of building a meta search engine, let us check the goals to build this.
The new search engine must be able to search many items easily amongst millions in minutes.

It has to run on a small VPS.

The indexing of the second hand must be fresh.
Many things happen at the backend when a query is sent to the other search engines.
Firstly, when a PHP receives any search query, it easily creates a brand-new situation of the SphinxClient and carefully connects it to the server. Then you can use the filters and Filters and sorting methods. Lastly, users can easily sort-by  location and price.
This is really effective, in terms of meta search engine.
While Meta Search Engines are required by the website, ExpertRec Custom search engine makes it easy to add to your website.
Here we will visit the steps required to add the ExpertRec Custom search engine to your website. This is one of the easiest setup processes of all the available options out there and is highly recommended.
Navigate to 

https://cse.expertrec.com/newuser?platform=cse and signup with your Google ID.
Enter your website's URL when prompted. You can select a server location near you and add the URL of your sitemap if you wish to. These will be auto-detected otherwise.
You can play around with the settings and

 

customize the UI

 

as the crawl runs. Once it is complete, you can check out a fully functional demo before taking the search to your website.
You can take the search to your website with little to no effort. All you need to do is to paste the code snippet available on the

 

dashboard

 

on your website.
ExpertRec comes with more customization options that you can explore. You can read this article to find a more detailed guide on the installation and configuration.
For more information on using search engine, check