When you build a website, you need to work on a search box as it impacts user experience. An intelligent search box will not only respond to what user is looking for but it will "predict" the user query. Search boxes make it more easy to access your site than header navigation tabs.
Read- Search bar for sites in 2 minutes.
Create Expertrec Search bar to search your Website:

Expertrec provides search bar for your site and handles the search queries for your users which is available from $9 to handle unlimited search queries. From Design point of view, Expertrec search bar is fully customizable. Here are steps to make a search bar for your site using Expertrec:
Steps:
Sign up to Expertrec custom search engine from https://cse.expertrec.com?platform=cse.
Mention your site url(s) from which the search results should come. After you proceed, search index will be created for your site which is used to cater results for the given user query.
You need to add javascript code to your web pages so that search bar will appear.
And you are done. Search bar have been added to your site and is ready to show results for user queries.
Additionally, you can customize the search bar look-n-design very easily as shown below.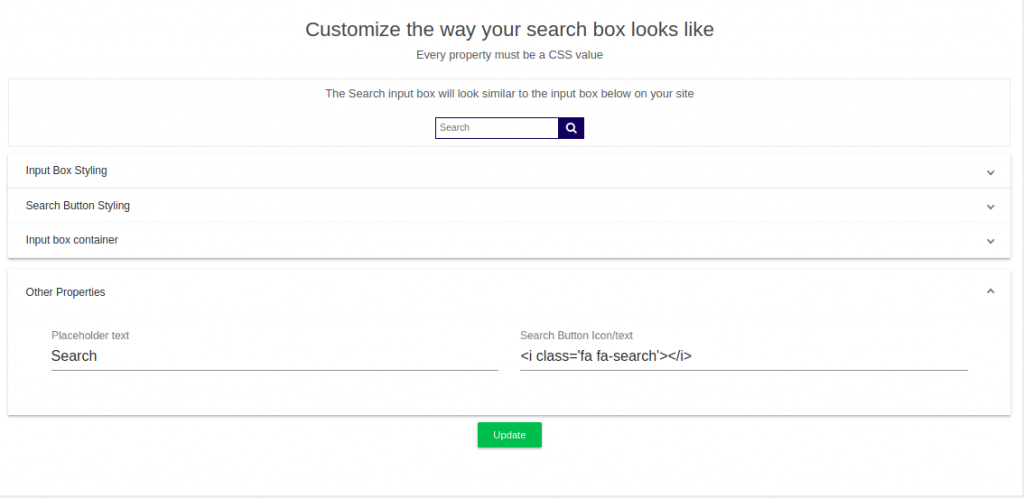 Changes to the search bar will be effective immediately and users on your site will see it the earliest.
Making a Search bar using Other Search Providers:
Google, Bing provides free search bar for your website as well.
In Summary, Search integration using Expertrec is easy and you have full control on the search bar which will be integrated to your site. There are numerous options while retrieving search results and similarly when results are getting shown to the user.
Happy Searching…!