Most people are not aware of the revenues that the T-shirt businesses bring, but it does bring a lot! The custom shirt printing business is estimated to cross $10 billion by 2025, can you imagine? Starting an online T-shirt business is very popular, not only for beginners in the market but experts too. You might ask why that is? The reason is-
Sourcing T-shirts are cheaper than others.
T-shirts are worn by kids as well as a person in their later ages, therefore having a universal appeal.
The process of customization is comparatively simple.
Is Having An Online T-Shirt Business a Good Idea? Is it Profitable?
T-shirts are undoubtedly a universal piece of clothing. Regardless of age, gender, and size, you will find a T-shirt or two in many people's wardrobes. A T-shirt is not just a simple piece of clothing, it can take your formal look to a semi-formal by wearing it under a blazer, casual when you pair it with jeans or shorts, or your custom way of showing your personality with your customized print. The above reasons are exactly why online T-shirt businesses can reap profits within a shorter time. You can also do that if you have the correct business plan!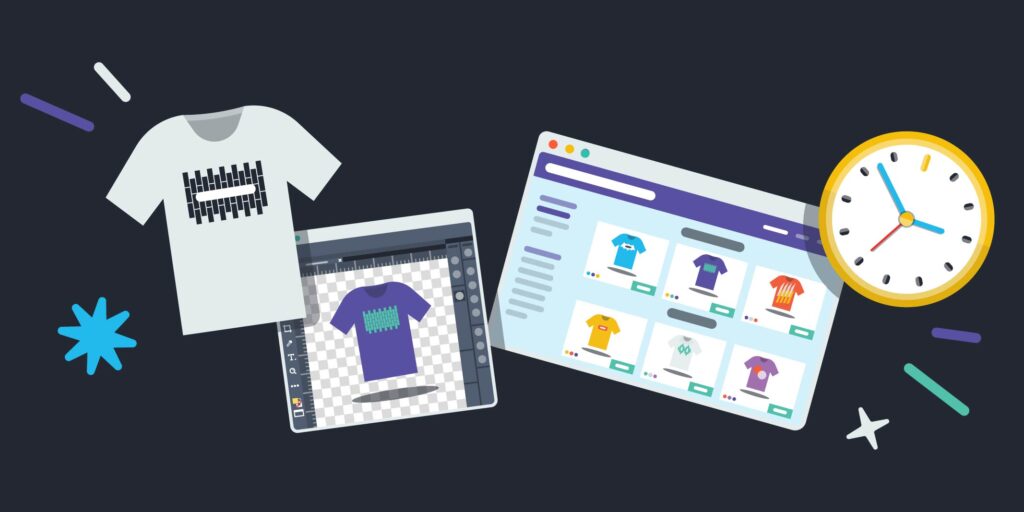 Are You A Startup? Let's Look At Some Low-Budget Start-Up Ideas!
You can bootstrap your own business. Bootstrapping is basically using your finances to launch your business. You can start with a smaller variety, and gradually expand your customer base. You can also start drop shipping to lift off your business and later move on to having your warehouse inventory and in-stock items with demand.
Add great search to your Shopify store
What You Should Know to Start Your Successful Online T-Shirt Business
You can have your own plan to start your business, but these are some of the important things you should look out for while establishing your T-shirt business.
Creating or Finding Your Niche:
Creating or having a niche for a T-shirt business helps in making your site stand out, and makes competition easier. You can check out your favourite T-shirt store, and start brainstorming ideas. Then you can make a unique niche that will be impressive to your audience. You can also check the areas which have not been tapped into or aren't popular much. This will create a unique brand image which will help you establish yourself l, and create more conversions for being the first or among the very few in that niche.
Designing the T-Shirts Yourself:
By designing your t-shirt, you are already a step ahead. Because that is a creation that is uniquely yours that stands out from others, as well as acts as a good base for your site's success.
You can make your T-shirt designs through different T-shirt design websites. You can also use any of your pre-existing art and convert it into a T-shirt design according to your unique niche. If your creative juices aren't flowing, you can hire a designer from hiring platforms like Fiverr, Freelancer etc. to bring your ideas into print.
Therefore you have your first step, aka the design, complete to be launched.
Getting Input on Your Creation:
You may think your designs are truly one of a kind, but they may also need some improvement. This is where you need to get validation regarding your designs. You can create a mock T-shirt, and post it on platforms like Reddit or a subreddit to get real feedback from your audience. If you have positive feedback from your design posts, you are already a step ahead in creating a dedicated consumer base.
It is always advised to use superior-quality materials that won't tear, wear down, or become threadbare after a couple of uses. Good quality products always make the customer come back for more, for who doesn't love excellent quality? Giving your customers a superior shopping experience increases your sales through word of mouth and personal reviews. If you are printing your designs, you need to make sure that your prints are not cracking after a wash or two. To avoid both, you can order the best-selling items in bulk. It will lessen your manufacturing costs as well.
Setting Up a Price and Choosing The Business Model:
Setting up a price is tricky. It depends on the profit and the fit, comfort, and quality of the material and the print. Often it's seen that people don't hesitate to pay a little more for the premium quality experience which you can provide them with your perfect fit, soft and high-quality material, like cotton.
If you feel like your prints and shirt quality costs more which would not let you have much profit, you can also drop-ship your products.
Having an Online Presence:
Once everything is ready, you need to open your site and promote your products to your niche through advertising, modelling your T-shirts, and more. You have to use a custom search engine for more visibility of your products.
How to Increase Engagement in Your Online T-Shirt Website?
For online T-shirt businesses, the website is the lifeline, and the search engine is one of its most used features of it. Therefore you need to choose the search engine wisely to increase your visibility, like Expertrec.
Expertrec is an AI-powered custom search engine which even has a multilingual search feature. It helps in quicker search results, as well as working across different platforms. You will also be able to engage your site visitors with personalization. This will increase your rate of conversion. You can also create a customized search by using simpler options that define the search interface. For a start-up, the budget-friendly pricing of Expertrec is an advantage.
The Bottom Line
A good search engine with a customized search interface, and good quality stellar designs can only take you to a certain limit. You also need to do your market research, check where and when your target audience is the most active, what kind of content( like static posts or video) they consume more, as well as in which social media platform they use more etc. You can also tell your story behind the brand creation to have a personal connection with your buyers. Once you have mapped these things out, you are ready to prosper in your T-shirt Business!