Shopify has a free plan for both stores and apps so that everyone in the world can build their dream stores and apps without stopping to think about what is possible due to the free plan. It's the perfect opportunity for discovery, which is where Shopify Advanced Search comes in. With Shopify Advanced Search, you can see all of the features that Shopify offers to see what's possible without paying a dime.
Shopify Advanced Search is the place to check for just about anything in your Shopify store. You can get the Expertrec smart search bar in order to give your online store visitors a wholesome experience. The Expertrec smart search bar will show visitors below-the-fold categories as well as a recommended navigation. We also have a robust detail search that has the potential to increase the sales manifold. Let's learn about Shopify advanced search pricing in greater detail.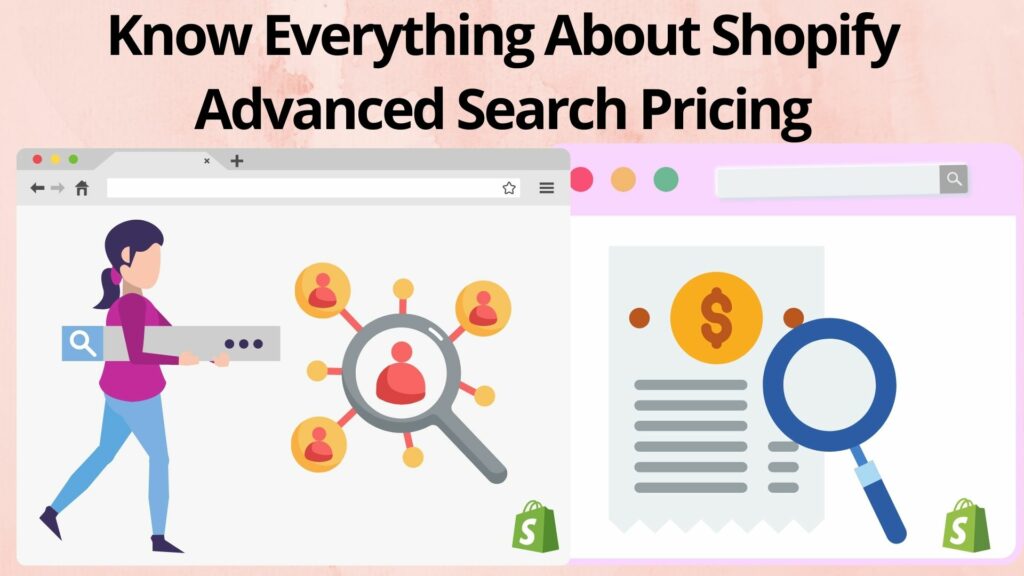 The New Shopify Advanced Search Feature
Shopify is one of the most popular eCommerce platforms. Its paid analytics features let you know what pages your visitors are visiting and how long they stay. And now the company is adding advanced search to help you get more out of those analytics. But do you know that the default Shopify does not provide search analytics? That is where the Expertrec Shopify advanced search feature comes in. Do you know the reason why the Expertrec smart search bar is so powerful?
Some powerful search features are instant search, zero ads, voice search, search analytics, autosuggestion, autocomplete, quick setup, backend support, unlimited AJAX searches, facets and filters, etc. That makes it possible for a versatile search bar with a great search engine feature. There are only so many times you can go to your store and test the search bar and explore how it behaves versus the default Shopify search bar. The Expertrec expert search feature is super easy to use. All you need to do is install the search bar and type the search query.
How to add Shopify advanced search bar 

without code

?
You can add Shopify advanced search bar within seconds and witness the change within few minutes. There are two easiest ways to add Shopify Search API in your online store.
1. Expertrec Shopify Search App
2. Expertrec Shopify Search Plugin
Also, you can always add code and modify the default search bar. Since it is harder for non-coders, we will talk about it in the later section. Let's get started with the easiest way:
1. Expertrec Shopify Search App
Note: The Expertrec Shopify Search App is listed on Shopify App Store.
i. Click on https://apps.shopify.com/expertrec-smart-search-bar to install the search API.
ii. After installation, please enable the search extension, and you are all set to use a modified search bar that really listens to you!
Now, Install the Expertrec search bar by clicking on the install button.
Now, click on Start Free Trial to access the Shopify Search bar.
Make sure that the Expertrec Smart Search bar is enabled.
Here you get Expertrec Smart Search Bar on your Shopify Store.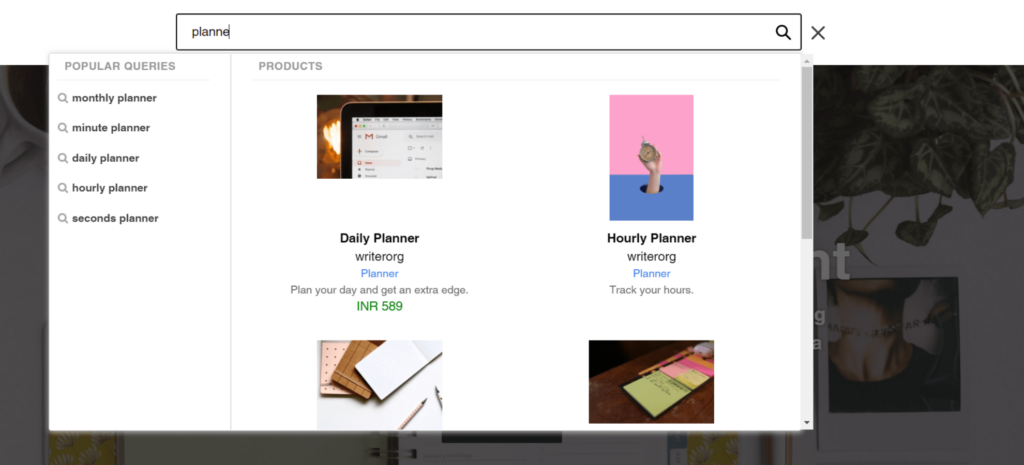 2. Expertrec Shopify Search Plugin
The second method is quite similar to the first one. I'm sure you will get the App installed through the first method already.
i. Click on https://www.expertrec.com/shopify/
ii. Enter the URL of your Shopify store in the Shop domain.
iii. Click on the install button.
iv. Log in to your Shopify Store and click on install.
v. Expertrec Search Plugin is installed.
vi. Check the apps section to confirm that the Expertrec Search App is installed.
How to add Shopify Search by copying code?
You can create a Shopify Search Bar using Expertrec Custom Search (zero ads) and Google Custom Search(a lot of ads).
The two most popular Custom Search Engines are:
1. Expertrec Custom Search Engine (zero ads, fast search, and voice search availability)
2. Google Custom Search Engine (free version with ads and absence of voice search)
Let's dive into it and explore both of the CSE.
1. Creating a Search bar using Expertrec Custom Search
i. Firstly, log in to your Shopify store to access the admin panel.
ii. Click on Online Store and select the Theme option.
iii. On the right-hand side, click on Actions.
iv. A drag-down menu will appear. Select Edit code option located at second top from bottom.
v. In the layout, click on theme.liquid to add the code. You will see a section of code on the right-hand side.
vi. Now Click on https://cse.expertrec.com/csedashboard/home/code to access the code.
vii. Login with your Google Account and continue to add code to your Shopify store.
viii. Copy the code and the tag. Copying both of them is a must.
ix. Paste the code in the <head> section as shown below. Make sure it is just below the head section.
x. Paste the tag inside the <body> section as shown below.
xi. Save the code and you are all set to access the Expertrec Shopify Search bar in your store. You will get the Expertrec Search bar that is really fast. It successfully understands queries in 30+ languages. This makes it a search bar that understands the words of users. It supports autocomplete and recommend searches. There are a lot more benefits. All you need is to install the Expertrec search bar. Integrating it with your Shopify store will help to launch your Shopify store to the next level.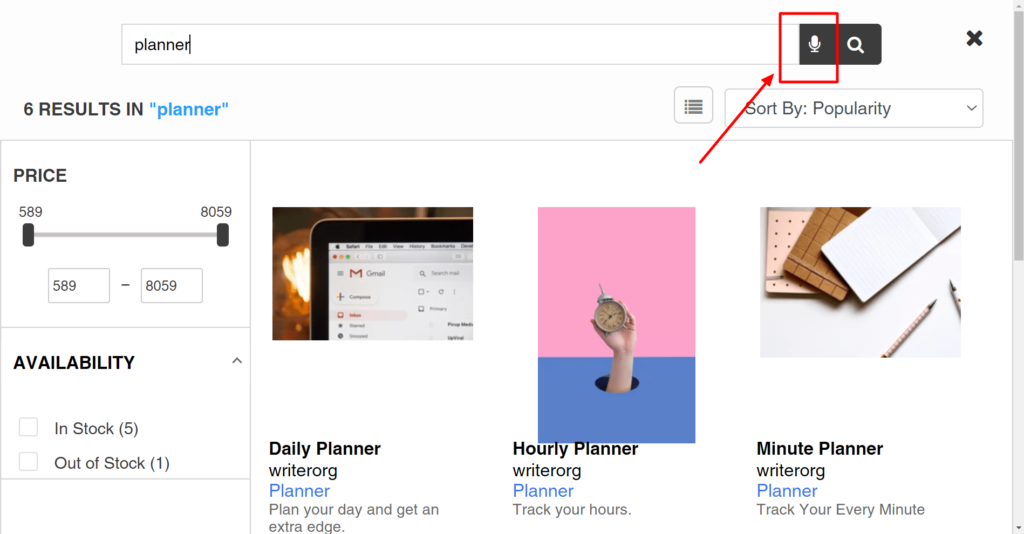 2. Creating a Search Bar using Google Custom Search
It is an upfront free tool to add a search bar to your store. That means you can install Google Custom Search for free, but with time, you will have to pay the price. It works by showing ads, and you already know that ads can really steal your customers with a single click. Still, if you choose GSS for experimentation, here's how to do it.
i. As before, log in to your Shopify store to access the admin panel.
ii. Click on the Online Store and select the Theme option.
iii. Click on Actions on the right-hand side and click on the Edit code option in the drop-down menu.
iv. Now, Click on https://cse.google.com and get started. 
Enter your website URL. You can name your Custom Search Engine.
v. Tap to create. Click on Get code. After that, you will get the code. 
And now, you need to copy the code. You can click on the right-hand side. There is a "See HTML example" button. Clicking on it will show you where and how to add the code to your Shopify store or any other website.
vi. Paste the code in Layout -> theme.liquid -> Body section (<body>) as following. The highlighted part is the required code. Make sure that the code is between the two <div>. 
vii. You are successfully adding the Google Custom Search to your Shopify store. Whenever you search a query, you will get the results with ads. So, it is always better to go with the best. Having ads are not a major concern when you are just starting out. But, in the long run, it hampers the sale and affects overall business growth.
Shopify Advanced Search Pricing
It should come as no surprise that Shopify apps can be pretty epic. But you, savvy Shopify pro, know that sometimes even apps can't get the job done. When you're dealing with one of those special cases, Shopify Advanced Search can come to the rescue.
Here is Expertrec smart search pricing:
R2D2 is paid yearly, and you can avail of it at $9 per month. This is the most basic Expertrec CSE plan that covers unlimited search queries with indexing up to 2,000 pages.

Skywalker allows you to index up to 5,000 pages at $25 per month. It also covers unlimited search queries along with searching content of PDF, Sheets, and DOC files.

Yoda is one of the most popular plans that can be either yearly or monthly paid according to your preference. It can index up to 10,000 pages and supports unlimited search queries.

Darth Vader is a giant plan to be paid yearly or monthly indexing up to 20,000 pages. If you have a really big eCommerce store, then it is a perfect plan to go for.
While the first two plans on this list are affordable to use, the Advanced Search app is a little more expensive. This is because it can do more queries per second, which costs a little more. It has more storage including index, so you can take your store to the next level. Also, for the first two plans, more budget is not required. After all, it is built for small business owners who want to do more without worrying about exceeding the costs.
Shopify Advanced Search– Handling Online Store
Having a powerful search bar is a must thing for an E-Commerce store. It will allow the visitors to search for all the products, blogs, pages, and services. Make sure that you install an awesome search bar like the Expertrec Smart Search App which comes at a minimal price of $9 per month. It has a lot of features as explained below:
Highly customizable Search
The Expertrec Search Bar gives you immense power not only to handle typo tolerance and make the product update within seconds but also to it makes your search bar highly customizable. You can make your search bar rounded or in a square shape. If you want to integrate Expertrec Search Bar with your default search that affirms your UI then choose for existing search bar option.
The Expertrec team is always there for you to make any changes, The Expertrec team is ready to make your search bar the way you want. All you need is to contact the support team and get your issue resolved.
Access to Search Analytics
The most important thing for an E-Commerce Store is to track the analytics. Think like, a user searches for a term say, Weekly Planner. And you don't have any stock left for it. But here's the crux. In no time, there are several users you are starting searching for Weekly Planner. What does that signify? It clearly indicated a rising trend of Weekly Planner the visitors.
Now, how can you help these visitors and turn them into leads? You got it. By restocking the Weekly Planner and making that option on your home page in the trending section. But, how will you get to know that it all is in trend? Google Analytics!
The Expertrec Search bar is integrated with Google Analytics and helps you in tracking searches and thus, enhancing sales opportunities.
Zero Ads
Expertrec promises zero ads. Yes, you heard it right. But, why we are proud about zero ads? Say, you have Google Custom Search Bar on your Shopify store. It shows a lot of ads. Any user can easily leave your store with a single click on these ads. Undoubtedly, it can show you ads or even your competitors.
In order to resolve the issue, Expertrec comes with this awesome feature. By giving you access to a highly customizable search bar, Expertrec makes sure that you get bangs for the buck.
Products facets and filters
There are a lot of options present for enabling facets in the search results. You can select according to the status of a product if it is in stock or not. You can apply an availability filter for that.
To filter the product list according to the collection, or product type in the product category section, use filters accordingly. You can also select facets for vendors and tags. It will show filters in the search results.
Voice Search
Voice search is the future. The increasing popularity of voice assistants has proved the drastic rise in voice search technology. You can make your E-Commerce store stand out in the crowd by adding a voice search. Since the default Shopify search bar does not come with a voice search option, having this option in your site search can help you in the long term.
You can get access to all the features by just installing the Expertrec app from the Shopify app store.
If you have an e-commerce store, then make sure that searching is as fast as lightning speed. And, what's better than showing up the results instantaneously someone starts searching for an item. Even most popular e-commerce sites like Amazon, Flipkart support fast results wherein the users get the result of the suggested product as they start searching for it. You do not have to hit "enter" every time, rather, just start typing the keywords and you will get an instant listing done.