It is not unusual for eCommerce businesses to outgrow their present platforms and tend to transfer to a better one. A lot of companies start their business career by hosting on-site websites. In the long run, they are found to be overstaffed and it gets overwhelming because of the demands of a customized structure. Limited functions often lead to slowing down and loss of revenue.
So, are you thinking of moving your business to an eCommerce website? Well, it needs serious planning and preparation, because a dysfunctional eCommerce website can harm your business. However, eCommerce migration is a necessity for your business to ensure and compete in the market.
Why is eCommerce Migration Important?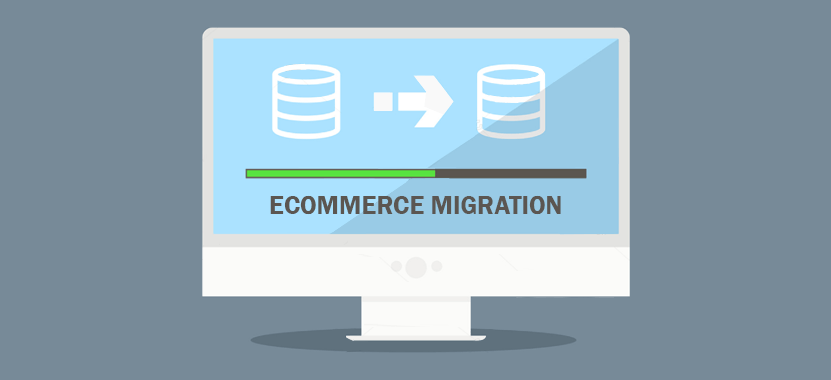 First of all, you need to understand what exactly is eCommerce migration. When your business undergoes the process of eCommerce business which includes moving your content, system, and data to a different provider.
ECommerce migration is important because it will help you to adapt to the ever-shifting needs of your business. If you are looking for further improvement in your website performance, migrating your platform might be a good option. It also helps to keep the features and technology of your website updated, and increases overall business productivity.
How Does the eCommerce Website Migration Work?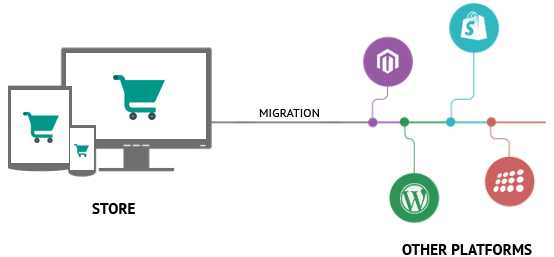 First, you must understand the method of migration and follow a few basic processes of eCommerce website migration. Are you aware of your needs and what you have? Figure out the deficiency of your platform and make a list of the essentials. Migration is not a simple process, there are eight major steps that you'll need to follow to successfully migrate your websites. You will need to have a detailed plan, and a collaborative approach with your team and migration partner to make it happen.
Select the best platform for your business.
Sending a request for proposal to the short-listed. It consists of a good number of questions that will be beneficial to you to decide your ultimate choice of an eCommerce business.
Plan out three years ahead while building your forecast prototype. Do not plan for any growth for the initial six months.
Design your functions, and decide which apps you want to keep and which are outdated. It is very important to map out every point of contact between the new platform and your company.
You need to keep in mind to incorporate inputs from every department to make sure you don't miss any important features. Once you have the list of finalists, you can start the testing process of the platforms to finalize your best choice.
Now you can launch the migration by determining a migration service that will handle the complications of data migration.
Next, you can redesign your site, check how it is functioning, and fix the problems, if any, before going live. Each department must incorporate its input for a smooth transition.
Then, you can go live because of your planning and months of hard work. Once everything starts to work smoothly, customers will notice the faster service.
What Benefits Do eCommerce Website Migration Offer?
Rate of Conversion is High
eCommerce business. With the new platform, you will be able to create a more engaging site that will make the buyers proceed to purchase the items they are eyeing.
Average Order Value is Higher
You'll be getting new tools on a new platform that will help you to convince the customers to buy more from your site. Offering discounts, free add-ons, and special offers would surely increase the number of orders from customers.
You Can Get Higher Revenue With Omni-Channel Marketing
Migrating your eCommerce website to a platform that permits you to assist all your buyers on one single platform, with distinguished prices and shipping will be really beneficial for you.
When Do You Need to Change Your eCommerce Website Platform?
There are many reasons a business needs to re-platform. How would you know the exact time your business needs one? There are many reasons which can be summed up in a phrase – 'The present platform is taking a lot of effort'. In case, it is too much work for you to maintain the store, reach out to the customers and grow your business, your business might require website migration. The reasons why you might need a website migration are –
If your product line is not properly organized for shoppers to easily find out what they want, migration is important.
If you're losing revenue because of the lack of facilities to handle the traffic of the site, especially when it's the holiday season, you need to migrate your eCommerce website to another more stable one.
If your website isn't mobile-friendly, you're surely losing sales because it's not reaching too many, your website should respond on mobile phones so that customers can check and buy from handy devices.
If your website isn't secure, it might lead to your customers' private information being compromised, and thus you will be losing their trust in your business.
If your platform is outdated, an eCommerce business to keep it updated, safe and working.
If you are confident enough that migrating your website will help you to do business better, because of higher revenue, more customers, and so on, you can proceed with it. Even if your website is working properly, there might be some features that it's missing that you're certain will help you to grow your sales.
To Sum Up
eCommerce migration can be expensive and taxing, but it is important to expand your business. However, it can't be done without a proper understanding of the process and following the steps mentioned, to successfully migrate your business to a better platform. It is advised to do it sooner than later, but not in haste. Customer experience will be better and that will be beneficial for your eCommerce business. Migrating platforms can guarantee the long-term success of your business. To flourish, you need to look out for a platform that will help you to reach your goals.