Enterprise Search Software is the organized retrieval of structured and unstructured data within an organization. It makes content from multiple enterprise-level sources such as databases and intranets, searchable to a defined audience. Using an easily-navigated interface for entering, categorizing, and retrieving data securely in compliance with security and data retention regulations, products in this category can be made available to customers and employees.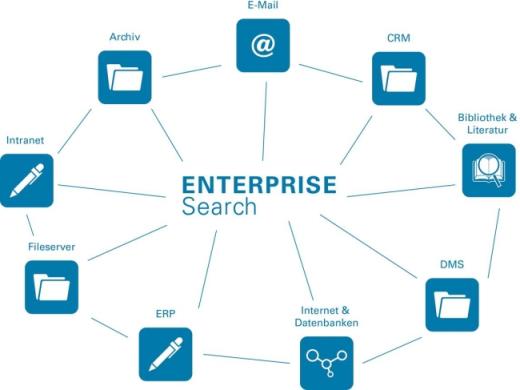 Enterprise search software can connect a myriad of disconnected cloud platforms together and make them accessible through just one search tool. This kind of software arms employees and consumers with access to a network of data from anywhere, on any device, all in real-time.
Create an enterprise search engine
How to add enterprise search
Many of the newer software platforms house their data in different clouds, making it next to impossible for an employee on his or her own to find the information they need from a single, simple search interface. A marketing team using a CRM like Marketo, for instance, may need to find out more information about a particular client, but they're only seeing information available within that particular CRM database. Where else would they have to look? Salesforce, most likely. Or Google Docs. Or any one of a dozen other cloud-based applications.
Building an enterprise search in-house is never advised as it is a specialized field that requires expertise. Building an inferior search experience will defeat the purpose and can also prove to be quite costly. To build a custom search engine of your own, it is best to consult a specialist in the field.
To get an affordable enterprise search software, reach out to ExpertRec. We power affordable search solutions to all kinds of industries that will help your business and conversions.